This homemade anti-aging berry mask is packed full of enzymes to not only prevent wrinkles and fine lines, but also to reduce their appearance. This mask is made with natural ingredients such as blueberries, honey, and grapes, to smooth out fine lines, plump skin, and erase wrinkles and dark spots. Blueberries are full of enzymes, antioxidants, vitamin C, skin brighteners, and healing agents. Because of its gentle yet powerful ingredients, this homemade anti-aging berry mask is also great for those with sensitive, irritated skin. Just a word of warning though: blueberries can stain, so be sure to wear an old, ratty shirt before making this mask to prevent any mishaps!
Homemade Anti-Aging Berry Mask Recipe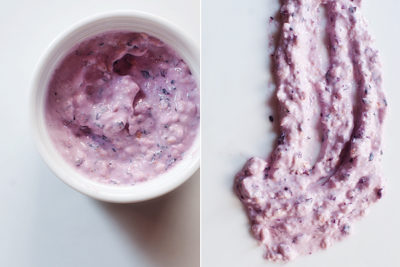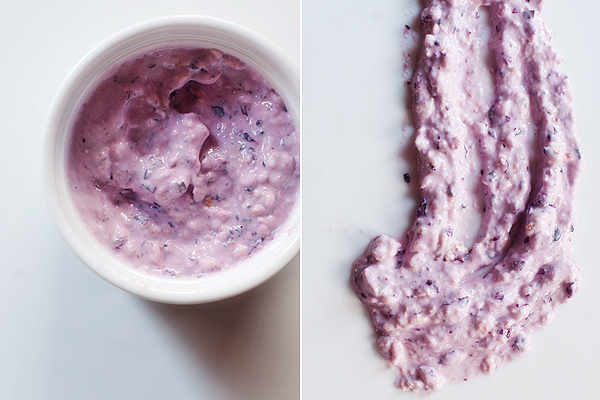 Benefits:
Blueberries contais antioxidants, prevent premature aging, have wrinkle diminishing properties, skin brightening for radiant skin, and fruit enzymes that help with cell repair.
Grapes are packed full of antioxidants, vitamin C, and skin brightening properties.
Lemon juice erases dark spots and scars and also brightens skin.
Manuka honey has healing properties, purges bacteria, and moisturizes.
Aloe vera gel has healing and anti-aging properties, and  also calms irritated, sensitive skin.
Ingredients:
1/2 tbsp organic blueberries, pureed
1 seedless grape, pureed
1/2 tsp freshly squeezed lemon juice
1/2 tbsp Manuka honey (but regular honey will also work)
1 tbsp fresh aloe vera gel
Directions:
To a food processor or blender, add all ingredients and pulse until a smooth, mask-like consistency forms.
Apply the mask to clean skin, avoiding eyes.
Leave on for 15-20 minutes and rinse off.
Pat dry.
Use this mask once or twice a week to rejuvenate skin, prevent dark spots, and erase wrinkles and fine lines.
Share and Pin 🙂