As we get older, our skin tends to loose elasticity, which is basically a big drop in moisture, and therefore that's what makes skin looks droopy and older. Thankfully, there are many ways to slow down the signs of aging and even reverse them! And no, you don't need to spend hundreds of dollars on expensive creams – natural ingredients is where it's at! Everything that you need CAN be found in nature and more often than not, these natural ingredients work WAY better than expensive store bought cream. Let's take a look at this homemade anti-aging face mask for fine lines & wrinkles and see WHY it works!
Homemade Anti-Aging Face Mask Recipe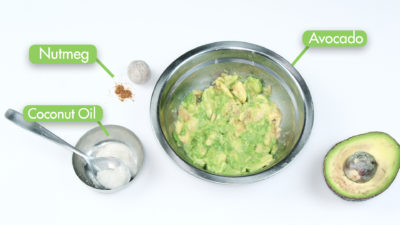 Ingredients:
Directions:
In a medium sized bowl, mash 1/4 of a ripe avocado using the back of a fork.
Once the avocado is nice and smooth, mix in coconut oil and nutmeg.
Stir until well combined.
Apply the homemade anti-aging face mask to clean skin, including the neck.
Leave on for 25-30 minutes and rinse off.
Pat dry and follow up with an anti-aging serum or moisturizer.
Benefits of Homemade Anti-Aging Face Mask:
Moisturizing and hydrating
Skin plumping
Erases wrinkles and fine lines
Promotes healthy and new cell growth
Improves skin elasticity
Treats age spots, dark spots, and scars
Use this mask 2-3 times a week to prevent fine lines, wrinkles, and crow's feet, as well as to reverse the signs of aging.
If you like this post, don't forget to share 🙂