This homemade face lift mask seriously works WONDERS and if you don't believe us, try it out for yourself! You've got nothing to lose except for an egg white, a lime, and a spoonful of honey! Those are the only ingredients that go into this homemade face lift mask! Use this mask 3 times a week to prevent wrinkles and fine lines, lift and tighten the skin, as well as to reverse the signs of aging.
Homemade Face Lift Mask Recipe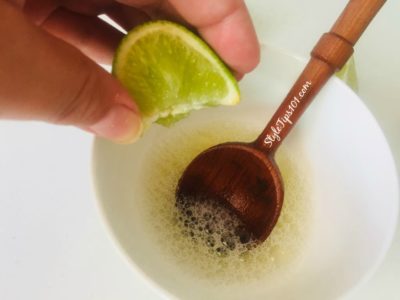 You'll Need:
1 egg white
a lime or lemon wedge
1 tbsp raw honey
Directions:
In a bowl, beat the egg white until nice and frothy.
Squeeze your lime or lemon wedge into the egg white and add in the honey.
Stir well until all ingredients are incorporated.
Apply to clean, dry skin and leave on for 20 minutes or until you feel a tightening on your skin (this is from the egg white).
Use 2-3 times a week for best results
Why The Homemade Face Lift Mask Works:
Egg Whites are packed full of protein and collagen which tightens and lifts the skin. The proteins go deep into the skin to plump it up, and also fills in fine lines and wrinkles. With regular usage, egg whites will also slow down the signs of aging.
Limes/Lemons act as natural bleaching agents which means they will gently reduce the appearance of dark spots, age spots, and acne scars. The result is brighter, glowing skin!
Honey is a natural cleanser, antiseptic, and antimicrobial ingredient which combats dirt, impurities, and also prevents breakouts. Honey also gently hydrates and leaves skin super soft and supple.
Like this post? Share and Pin 🙂