Looking for a super simple, yet super effective hair cream? This homemade coconut hair cream is a do-it-all cream that will fix frizz, add shine, encourage hair growth, treat split ends, and hydrate. This all-in-one homemade coconut hair cream only requires 3 simple ingredients that seep deep into the hair follicles and will leave your hair looking like a million bucks!
We love this homemade coconut hair cream because:
It's simple to make and you only need 3 ingredients
It's 100% natural.
Encourages healthy hair growth.
Softens & hydrates dry & damaged hair.
Repairs split ends.
Adds a TON of shine.
It's super cheap to make!
So why not give this coconut cream a try? We're totally obsessed with it, and, once you try it, it'll be your fave new hair cream!
Homemade Coconut Hair Cream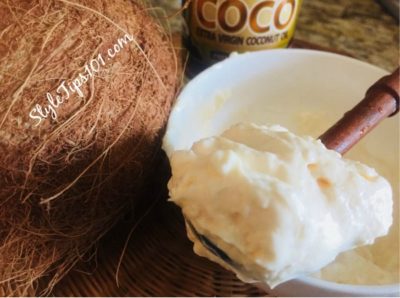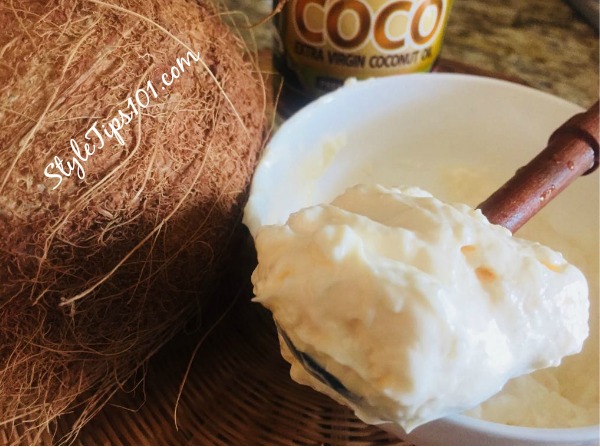 Ingredients Needed:
Directions:
In a microwave safe bowl, melt your coconut oil in 5 second increments until completely melted.
Add the melted coconut oil and shea butter to a blender or food processor.
Blend/process for about a minute, or until the mixture is nice and fluffy (wait until stiff peaks form, like whipped cream).
Stir in a few drops of your favorite essential oil and scoop mixture into a clean, airtight container.
If it's summer or you live in a warm climate, keep your coconut hair cream in a cool, dark spot (so it doesn't go flat).
If the mixture goes flat, simply whip up again in a blender or food processor!
How to Use the Homemade Coconut Cream:
There are a few different ways you can use this coconut cream:
Use on dry hair as a frizz tamer/shine cream. Simply rub a small amount between your hands and run through hair. Avoid applying to your roots, especially if you have thin, oily hair.
Use on wet hair after showering, and apply to ends to treat split ends and detangle.
Use as a deep conditioner/hair mask. Apply all over wet OR dry hair and leave on for 30-45 minutes. Rinse out, and shampoo and condition as usual.
Like this post? Share and Pin 🙂