Unless you've been living under a rock (it's ok – we all do sometimes), you've undoubtedly come upon the craze that is Korean beauty? So what is Korean beauty to be exact? Well, it's hard to explain, but in a few short words it's just THAT – Korean beauty! It usually entails all things in cute packaging, amazing skin care, and even better makeup application. The Koreans have taken the beauty world by storm and for some reason, they'd like to share it with us! From adorable packaging to quality products, Korean beauty standards have really gone up. On this episode of Korean beauty products, we'll talk about Korean face masks and why you should use them!
Korean Face Masks: Why You Should Use Them
First off, I'd like to say that these things come in the CUTEST packages! I know, I'm a sucker for adorable packaging, but aren't we all? I mean what's the point of buying any beauty product unless it comes in a packaging we love! And especially these days, when most of us make our own masks, exfoliators, and cream (the DIY revolution!), I think it's super important for companies to really focus on their packaging because that's just one thing we can't make at home!
Anyways, enough of the cute packaging.
Korean face masks! They're actually LOADED with super good ingredients. Take for example this 11 pack mask sheet that I'm currently obsessed with: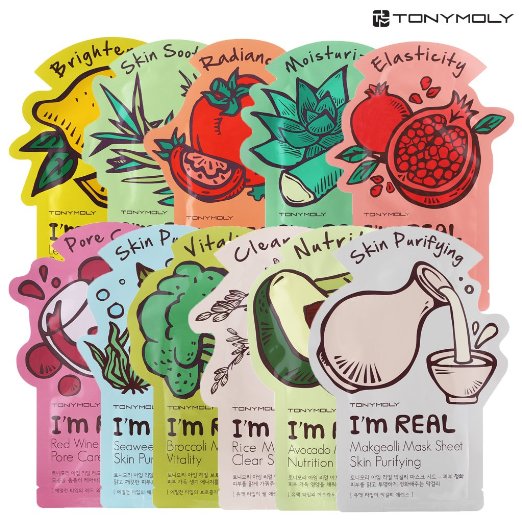 For just under $11 on Amazon, you get ELEVEN amazing sheet masks that actually contain 100% natural pulp, and are free of parabens, alc, benzo-phenone, troethanolamin, and artificial pigments. Here's the full breakdown of each mask sheet:
– Lemon :Whitening/vit.C
– Tea tree : Tea tree extract relieves skin outbreak/maintain healthy and clean skin
– Tomato : Vitamin, fiber/remove dirt/sebum control
– Aloe : Soothing, hydrating/regenerate acne scar
– Pomegranate : resilience/female hormone
– Red wine : Tighten pores/against aging factor/exfoliation
– Sea weed : Skin clearance/radiance
– Broccoli : Vitamin A/raise skin resistance/anti-aging
– Rice : Improves skin tone/radiance
– Avocado : nourishing/ activates collagen, elastin synthesis
– Makkoli : Rice-fermented extract / clear skin tone
They're eco-friendly, imported straight from Korea, and free of animal testing.
But…Do They Work?
The answer is absolutely YES! My skin has never felt smoother and clearer than after using one of these sheet masks. All you have to do is cleanse your face before, and with damp skin, apply the sheet directly onto your face! They also leave the eye cutouts on, but you can completely remove them if you like. Lay back and let the wonders of the Korean sheet mask do its thing. Peel off after 20 minutes, and, whatever is left, simply massage into your face.
Be sure not to use these every day – your skin might become too sensitive. Instead, use one every 3 days for optimal results. Whatever your skin issue is, these will solve it with just a few uses! Dark spots? Check! Large pores? Check! Any sort of skin issue, this will work for you!
Oh and did I mention the price? At just under $1 for each, you really can't go wrong. And that's basically the beauty of Korean beauty – it's cheap! Cheap, amazing quality, functionality, and adorable packaging.
Did you enjoy this post? Why not share the beauty knowledge with others?