If you're looking to say goodbye to dull skin, this skin brightening coffee mask with turmeric is your ticket out! Natural, skin brightening ingredients make this the perfect face mask to apply before a big event or a night out! Apply this skin brightening coffee mask 2-3 times a week to clear up imperfections, detoxify the skin, brighten, and prevent breakouts! This face mask is also great for those with super oily and acne prone skin.
Skin Brightening Coffee Mask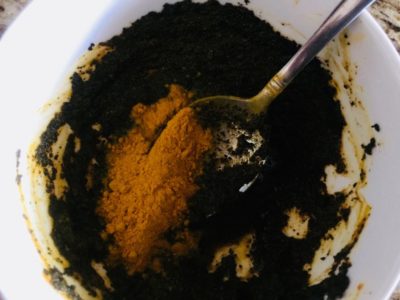 Ingredients:
There are TWO different variations of this mask:
With ACV or lime/lemon juice = For those with oily, acne prone skin.
With coconut oil = For those with dry, sensitive skin.
Directions: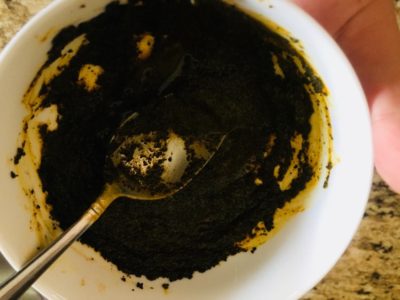 In a small bowl, mix all of the ingredients together.
Apply the mask (careful, as it is a little runny and can become messy) to cleansed face and neck.
Leave on for 15-20 minutes.
Remove by gently massaging the coffee grounds into the skin in slow, circular motions.
Rinse off and pat dry.
If your skin is yellow from the turmeric, it is usually a sign of a poor quality turmeric powder. To remove, simply scrub your face with a gentle face scrub.
Follow up with your favorite moisturizer.
Benefits:
Skin brightening
Skin clearing
Gets rid of blackheads
Prevents breakouts
Controls oiliness
De-puffs skin
Softens skin
Detoxifies
Like this post? Share and Pin 🙂