This skin brightening face mask uses turmeric to brighten, hydrate, and plump dull, dry skin. Turmeric isn't just used in the kitchen – it can do wonders for all skin types and if you haven't tried it yet, you should run and do it right now! The main compound in turmeric is called curcumin which works to suppress excess melanin production caused by sunlight. Curcumin is also anti-inflammatory and anti-aging, and so it's a wonderful ingredient for all skin types! This skin brightening face mask will become your new favorite mask!
Skin Brightening Face Mask Recipe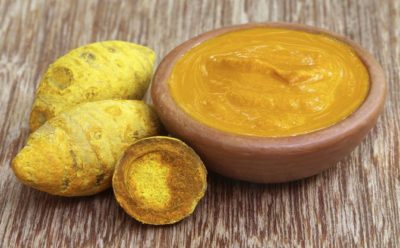 Ingredients:
1/4 tsp turmeric powder
2 tbsp flour or cornstarch
a few drops of honey
For oily skin: 1/4 cup plain yogurt & a few drops of lemon juice
For dry skin: 2 tbsp coconut oil, sweet almond oil, or olive oil
Directions:
In a small bowl, mix in the turmeric powder, cornstarch or flour, and honey. Stir until well combined.
Next, add in either yogurt and lemon juice, for oily skin, or coconut/almond/olive oil for dry skin.
Stir until well combined.
Apply mask to a clean face and neck and leave on for 15-20 minutes.
Benefits of Skin Brightening Face Mask:
Anti-inflammatory
Brightening
Removes scars & dark spots
Antibacterial and anti-septic
Anti-aging
Skin tightening
If you like this post, don't forget to share 🙂