Paraffin hand and feet treatments are often done in salons and spas to soften dry, cracked skin and seal in moisture. Unfortunately, it's not always in the budget, and they CAN be pretty pricey. Thankfully, you can make your own paraffin wax treatment at home for a fraction of the cost! This DIY paraffin wax treatment for dry, cracked hands & feet is super easy to make, and only requires a few natural ingredients. And, once you get your hands on these ingredients, you can make a slew of different home beauty treatments and save yourself a ton of money!
DIY Paraffin Wax Treatment
Ingredients:
1 block (about 4 oz) paraffin wax. You can usually find this in your local grocery store by the canning section, or online.
1 oz oil (coconut, almond, olive)
20 drops essential oil of your choice (lavender, peppermint, grapefruit, etc…)
a few drops of coconut or olive oil to coat the hands or feet
a casserole dish, greased with oil
Directions: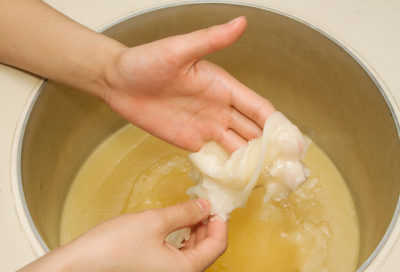 This DIY paraffin wax treatment can be used for both hands and feet!
In a double boiler, melt the praffin wax, the ounce of oil, and the essential oil. Stir while it melts.
Carefully pour the melted wax into the greased casserole dish.
Wait until a skin has formed on top of the wax. Once this has happened, it means that the wax has cooled enough to be safely applied to skin.
Test the wax on your wrist to make sure it is not too hot.
Prep hands or feet by washing them, drying them, and applying a little bit of oil.
Dip each hand or foot into the wax repeatedly until you have several layers of wax built up.
Wrap each hand or foot (you may need help from a friend here) in plastic bags or plastic wrap.
Lay back and relax for about 30 minutes.
For an extra dose of hydrating, wrap your hands or feet with a warm, wet towel to lock in the moisture.
To remove the wax, simply peel it off slowly starting at the wrist.
Use once a week to slough off dead skin cells and help seal in moisture.
If you like this post, don't forget to share 🙂