After a long hard day on your feet, there is nothing more relaxing than a foot bath and (hopefully) a nice massage! This lemongrass & chamomile DIY foot scrub is super refreshing and will slough off dead skin cells revealing super soft, touchable feet. This DIY foot scrub is made with natural ingredients and looks SO pretty, that I can make the cutest gift!
Lemongrass & Chamomile DIY Foot Scrub Recipe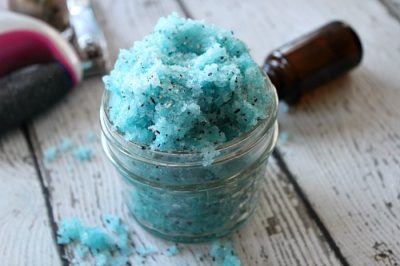 Source: Acultivatednest
This DIY foot scrub is best used after you've soaked your feet in a nice, warm foot bath or a regular bath. But if you don't have the time for that, the shower is just as fine! This scrub can also be used on other rough areas of the body such as elbows, knees, shoulders, and back.
Ingredients:
1 cup granulated sugar
1/2 cup – 3/4 cup melted coconut oil or olive oil
1/2 cup Epsom salts
1/2 cup baking soda
2 chamomile tea bags
15 drops chamomile essential oil
10 drops lemongrass essential oil
5 drops lavender essential oil
Optional – blue dye or soap colorant
Directions:
In a medium sized bowl, mix all ingredients together except for the blue dye.
Stir until all ingredients are well combined.
Add in one drop at a time of blue dye until you get your desired color.
Transfer scrub to a clean, airtight jar.
Your scrub is now ready to use!
Use in the bath or shower and scrub vigorously over feet, elbows, and knees.
If you like this post, don't forget to share 🙂