If you're at all familiar with Rihanna's new makeup line, Fenty Beauty, you've no doubt been hearing about the almighty highlighter that is dubbed "Body Lava". This body highlighter has gotten people to go CRAZY for it because when you put it on, you feel and look like an absolute KWEEN! There's glow, there's shimmer, there's unicorn sparkles, and everything in between! This "body lava" is EVERYTHING you've ever wanted in a body highlighter and more…except for the price.
Unfortunately, Fenty's "Body Lava" highlighter comes with the hefty price tag of $59 (NOT including tax), and I don't know about you, but we definitely can't afford to spent $60 on a body lotion.
Fortunately, you don't have to spend that money because you can make your very own body lava right at home with just 2 simple ingredients! This body lava recipe is super simple, super cheap, and yes, will still give you that ethereal glow you've been longing for!
Body Lava Recipe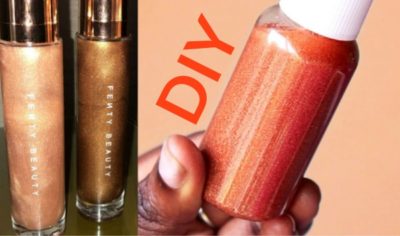 Source: YouTube
You'll Need:
Baby oil OR almond oil (baby oil will work better for darker skin tones, while almond oil will work better for lighter skin tones).
Highlighter powder – any highlighter will do! If it's in a compact form, you'll obviously have to break that up and making it into a powder form.
Directions:
To a bottle of baby oil OR almond oil, add in as much or as little highlighter powder as you want!
Start off by adding only a little at a time and shake the bottle well. Apply a small amount onto your arm and add more if you need to!
Apply wherever you want!
This body lava recipe is perfect for that glowing summer look, not to mention you'll be looking like a godess all season long!
Like this post? Share and Pin 🙂