Natural, homemade beauty products are clearly a passion of ours, and this homemade almond lotion is no exception! Made with only 4 ingredients (yes…you read that right, FOUR!), this homemade almond lotion is super silky and will leave your skin baby smooth. No preservatives, dyes, or alcohols are added to this all natural lotion – just honest to goodness ingredients that you can pronounce and see with your own eyes!
This lotion will soothe dry, cracked skin in a pinch, and will also leave your skin smelling like a vanilla-almond souffle! Also absorbs really quickly, so it's the perfect lotion for when you're in a hurry!
Homemade Almond Lotion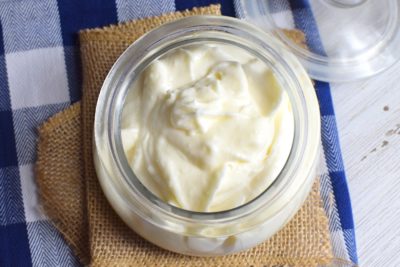 Ingredients Needed:
Directions:
To a bowl, combined all ingredients.
Use a hand mixer on high and beat until stiff peaks form and a whipped-like consistency appears.
Scoop into a clean, airtight jar or container and it's ready to use!
Benefits:
Coconut oil naturally hydrates and soothes dry, parched skin without leaving it oily. It will also help with any dark spots or scars, cellulite, and skin bumps.
Vitamin E oil speeds up cell regeneration which in turn makes your skin look younger and also helps with the healing process. Keeps wrinkles at bay and helps skin retain moisture as well!
Vanilla & almond extracts are used in this recipe simply for their awesome scent, but you can always replace it with whatever scent you wish!
Like this post? Share and Pin 🙂