This chocolate chip cookie dough body scrub is a scrumptious take on the edible cookie dough…but for your skin! Say hello to smooth skin!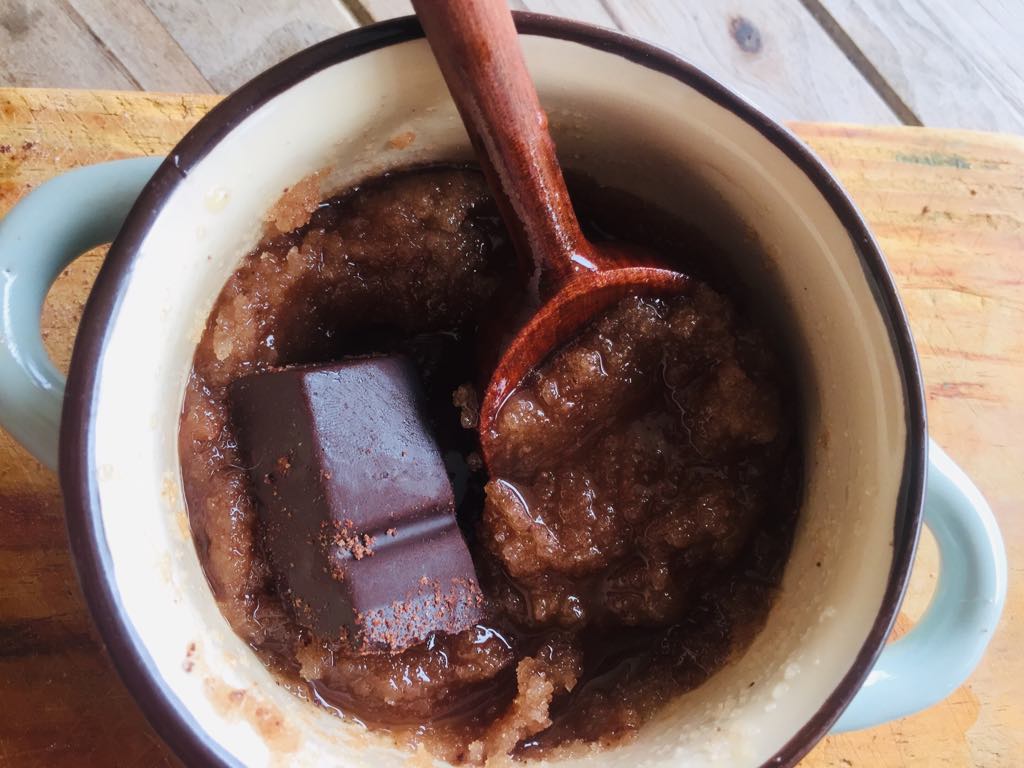 Sometimes I make cookie dough with the disguised intention of making cookies, but really I just want to eat the dough. But let's be honest, who doesn't love eating cookie dough? Recently, I switched gears and started making cooking dough with a completely different idea in mind and this time I didn't need to preheat the oven… I decided to make a cookie dough body scrub! And while this recipe is totally spoon-lickable, it is even better used as an exfoliating, hydrating and nourishing scrub for the whole body.
Both brown and white sugars work wonders as natural exfoliating agents to remove dead skin cells. Salts contain minerals that help to replenish the skin and reduce inflammation. Coconut oil further hydrates and nourishes, giving skin a healthy glow. Honey helps lock in hydration and vanilla oil further helps to improve skin's overall health.
Chocolate Chip Cookie Dough Body Scrub
Ingredients:
2 tbsp coconut oil
3 tbsp white sugar
3 tbsp brown sugar
½ tbsp salt
½ tbsp honey
¼ tsp vanilla oil or extract
1 tbsp grated cocoa nibs
To Make:
First, in a microwave safe bowl, heat the coconut oil in the microwave so it is in a liquid form (only if the coconut oil is solid to begin with).
Combine coconut oil, sugars, and salt in a mixing bowl and stir until well-mixed.
If the mixture is still dry, add a little more oil or a dash of water so all the ingredients begin "sticking" together.
Once well combined, add honey, vanilla, and cocoa nibs and stir well again
The "dough" should have a paste-like consistency.
To Use:
Rinse the hands and/ or body with warm water. Then apply the scrub to desired areas and gently massage for 2 to 3 minutes. Either rinse immediately after then wash the body as normal, or allow to sit for 10 minutes then rinse and wash. For best results, use 1-2 times per week.
Like this post? Share, Pin, and Comment Below 🙂