Our mouths are very complex, important parts of our bodies, and they are constantly taking a beating from all the food and beverages we force into them. Even though they are strong and pretty much clean themselves, it is important to give them a thorough clean and sterilization. Bactria flourishes in conditions like the ones created in our mouths and causes tooth decay, bad breath and other health problems. Brushing every day is not always enough to keep the bad bacteria out, this is where this DIY antibacterial toothpaste comes in!
An all natural toothpaste that not only fights bad breath and bacteria, but also whitens and prevents decay!
DIY Antibacterial Toothpaste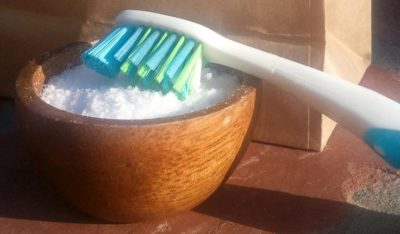 Ingredients:
1 tsp baking soda- A natural bleach. Helps remove stubborn yellow plaque and strengthen the teeth.
1 tsp hydrogen peroxide – Disinfects, sterilizes and massively reduces microorganisms and color when mixed with baking soda.
1 drop of peppermint oil – Another disinfectant that works well to remove extra bacteria and leaves the breath fresh.
Directions:
Mix the three simple ingredients together in a small container.
Apply to tooth brush and brush the entirety of your mouth thoroughly for about 2 minutes.
Rinse with cool water.
Benefits:
This DIY antibacterial toothpaste leaves the mouth fresh and gets rid of bad breath.
It also disinfects and helps free our mouths of all the built up plaque and gunk from the crevasses of the teeth and gums.
Doing this frequently will whiten your teeth by removing the yellow layer of the enamel and giving it a shine.
Disclaimer: Don't use every day as these products are harsh when used together. This mix is best if done once every 2 to 4 weeks. It should be done at night so that the teeth have a chance to rebuild any lost good bacteria or enamel.
Like and share if you can feel the cleanliness!