Did you know that beet juice has hundreds of beauty uses? Because of its very red hue, it's often used in making lip stains and cheek stains, but is also used a lot as a colorant. This DIY beet juice body butter is SO pretty, you'll seriously want to eat it! Making a perfect gift, this DIY beet juice body butter only requires 3 ingredients and will take you only minutes to make it!
DIY Beet Juice Body Butter Recipe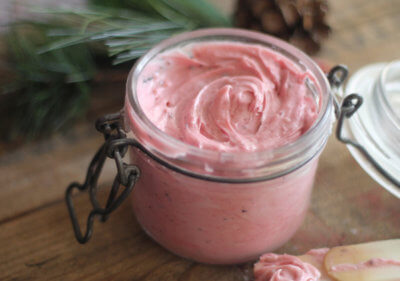 Ingredients:
We decided to go with strawberry essential oil to match the beautiful pink hue, but any essential oil will do! If you don't have any essential oil, that's ok too – it's just for the scent!
Directions:
Juice about 2 tbsp of beet juice using a juicer.
In a double boiler, melt the coconut oil and then stir in the beet juice.
Keep stirring until the mixture has cooled. The coconut oil and the beet juice will want to separate, but keep mixing!
Place the mixture in the fridge for 5 minutes and then mix again. Keep putting the mixture back into the fridge and then mixing until you reach a body butter consistency.
Add you strawberry essential oil and mix again.
Use within 3-4 days.
This DIY beet juice body butter will NOT stain your skin! It will only hydrate dry skin and leave it glowing!
If you like this post, don't forget to share 🙂