Get that glowing complexion you've always wanted with this super easy DIY berry yogurt mask. Any time you introduce yogurt to your face masks, you're basically bringing in a very gentle exfoliant and cleanser that will leave your skin super bright and glowing. This DIY berry yogurt mask is perfect for all skin types, but it's especially great for oily, acne prone, and aging skin. Because of the simple and natural ingredients found in this mask, anyone can make it and it will only take you a minute!
DIY Berry Yogurt Mask Recipe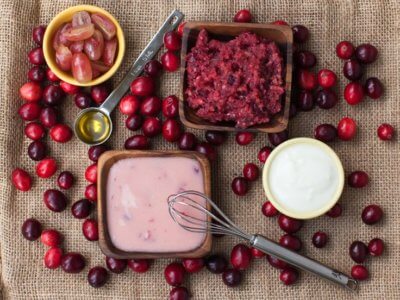 Ingredients:
2 tbsp plain yogurt
2 tbsp honey
1/4 cup mixed berries, fresh or frozen
1 tbsp lemon juice
Directions:
In a blender or food processor, puree your mixed berries with the lemon juice.
Transfer to a bowl, and add in the yogurt and honey.
Mix well until combined and apply to a cleansed face and neck.
Leave on for 15-20 minutes and rinse off with cold water.
Pat dry and follow up with a light moisturizer.
Benefits of DIY Berry Yogurt Mask:
Berries, especially blackberries, are amazing wrinkle and fine light fighters because they're packed with antioxidants.
Vitamin C in the lemon juice help to brighten dull skin and also erase dark spots and scars.
Honey is a mild anti-septic and it also gently exfoliates. Honey also promotes healthy cell growth and seals in moisture.
This mask is gentle enough to use 2-3 times a week and you'll see a difference after just one use. Your skin will be softer and brighter. Use on a regular basis to combat wrinkles and fine lines and also to get rid of dark spots and acne scars.
If you like this post, don't forget to share 🙂