It's time for another Lush inspired post! This time, we'll be replicating Lush's bubblegum lip scrub which is SO much fun and if you've ever used it, you know just how good it tastes! In fact, it would be hard to tell the difference between actual bubblegum and the bubblegum lip scrub. Today we're doing a DIY bubblegum lip scrub which will be very close to Lush's version, BUT it will save you a ton of money and it's also a great DIY project to do with friends or your kids! So let's roll up our sleeves and get to work!
DIY Bubblegum Lip Scrub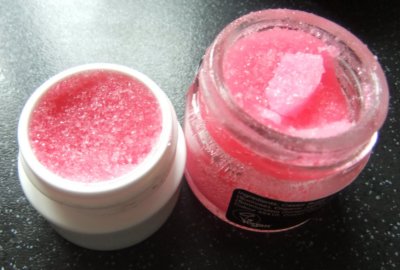 You'll Need:
3 tbsp granulated sugar
3 tbsp almond oil
1/4 tsp bubblegum flavoring (can be found in health food stores or online – totally worth it!)
2 drops vitamin E oil
pink food coloring (optional)
Directions:
In a small bowl, mix the sugar and almond oil and mix until well incorporated.
Add the vitamin E oil and bubblegum flavoring and stir well.
If you're using pink food coloring, now is the time to add it. Add one drop at a time and stir. If you'd like a deeper color, add another drop and so on.
How to Use the DIY Bubblegum Lip Scrub:
Wet lips and apply a small amount of bubblegum lip scrub to the lips.
Using your finger, scrub in slow, circular motions.
Leave scrub on for 1 minute
Rinse with warm water and wash off with a damp cloth.
Pat dry.
This DIY bubblegum lip scrub will leave your lips super soft and kissable as it removes the dead skin cells that may have accumulated over time.
Use once a week!
If you like this post, don't forget to share 🙂