Looking for some quality spa time with yourself? This nourishing honey oatmeal face mask will make you feel like you're at the spa the second you put it on! The natural ingredients in this mask nourish dry, irritated skin, and will leave your skin feeling bright, smooth, and free of impurities. Oats are naturally anti-inflammatory, so this mask is perfect for anyone with acne-prone or irritated skin. Honey is moisturizing, anti-bacterial, and anti-fungal, leaving skin clean and hydrated.
Nourishing Honey Oatmeal Face Mask Recipe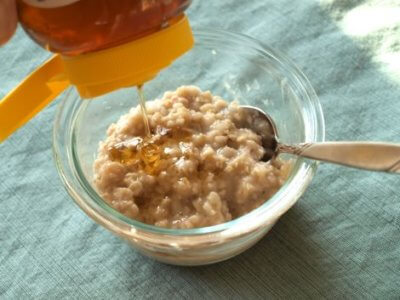 Ingredients:
1/3 cup oats
1 tbsp honey
1 tbsp coconut oil
1-2 tbsp water
Directions:
Use a grinder, food processor, or blender to grind your oats into a fine powder.
Then, mix your fine powdered oats with honey and coconut oil and mix well.
Add water a little at a time, mixing constantly, until you get the right face mask consistency. You may only need 1 tbsp or you may need both!
How to Use the Honey Oatmeal Face Mask:
Wash and dry face.
Apply all over face and neck and leave on for 15-20 minutes.
Rinse off with cold water and pat dry.
Use twice a week to hydrated dry, irritated skin.
If you like this post, don't forget to share 🙂