If you're a lover of all things DIY, then you know how useful charcoal powder can be, especially in DIY beauty recipes. This DIY charcoal salt scrub is the PERFECT scrub for rough, bumpy skin, just in time for that beach bod! Made with all natural activated charcoal powder, sea salt, and coconut oil, this DIY salt scrub will leave your skin feeling extremely soft, free of bumps and spots, and ready for short shorts! Plus, activated charcoal is known to detoxify the skin too!
Before we go ahead and dive into our DIY charcoal salt scrub recipe, make sure you always test a small amount on your skin before using! Especially if you've never used activated charcoal before, it's always a good idea to test the area just to make sure you don't have a reaction.
DIY Charcoal Salt Scrub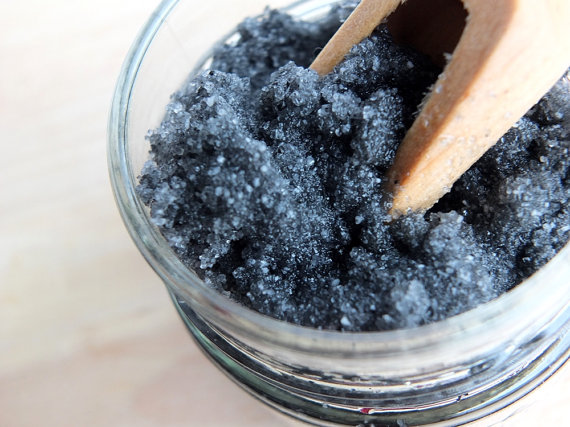 You'll Need:
1/2 cup sea salt
1/8 cup coconut oil or olive oil
1 tbsp activated charcoal powder
essential oils – optional, for scent
Note: You can purchase activated charcoal powder online, such as Amazon, or your local drug store.
Directions:
In a medium size bowl, mix sea salt, coconut oil (melted) or olive oil, activated charcoal powder, and any essential oils you may want.
Transfer to a clean container.
How to Use the DIY Charcoal Salt Scrub
For extra smooth skin, use in the shower or bath prior to shaving.
Rub onto skin in slow, circular motions.
The salt scrub will remove dead skin cells, revealing soft, smooth skin, while coconut/olive oil will penetrate the skin deep to hydrate. Charcoal powder gives skin a deep clean, detoxifies, and removes any impurities/bumps.
Use the salt scrub 2-3 times a week for the perfect, softest skin!
Note: Please do not use this scrub on the face, as sea salt can be quite rough and you may irritate the tear the skin. Stick to non-sensitive parts of the skin such as knees, elbows, and feet.
If you like this post, don't forget to share 🙂