Turmeric is high in anti-oxidants as well as anti-inflammatory properties which not only make its a super herb, but also an amazing skin healer. This DIY clay mask with turmeric only requires 3 ingredients, but will leave your skin soft, less oily, and will also prevent breakouts. This recipe was formulated for those with oily and acne prone skin, but most skin types can definitely benefit from this mask. A word of advice though, if you have very dry skin, we would recommend you not use this mask, OR if you do, add a little bit of coconut oil to the recipe.
DIY Clay Mask With Turmeric Recipe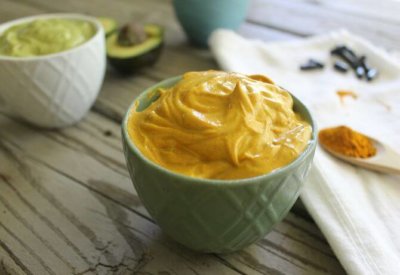 Made of entirely natural and organic ingredients, this DIY clay mask incorporates the all-powerful turmeric powder, bentonite clay, and apple cider vinegar. When combined, these three ingredients create a powerhouse made to combat excess oil production, breakouts, blackheads and whiteheads, and also exfoliates to reveal soft, smooth, and glowing skin.
You'll Need:
2 tsps bentonite clay
1/4 tsp turmeric powder (preferably organic if you have it)
2 tsps apple cider vinegar
Directions:
In a wooden or gloss bowl, mix all ingredients with a wooden spoon. Do NOT use a metal spoon as this can deactivate the active ingredients in the clay and vinegar.
Apply to a clean face and neck, making sure to avoid the eye area.
Let dry for 10-15 minutes or until the mask feels tight and has dried.
Remove with a soft, warm washcloth and rinse off any leftover residue.
Pat dry and follow up with a moisturizer.
Please note that while the mask is drying, it may feel tight on your face – this is normal.
Your skin may also look red afterwards – this is also normal. Within a few minutes, the redness will have went away.
Only use twice a week!
If you like this post, don't forget to share 🙂