This homemade deep conditioner with shea butter will leave your hair SO silky and hydrated, you'll feel like you just got a super expensive salon treatment! Made with avocado, olive oil, shea butter, and apple cider vinegar, this homemade deep conditioner will treat a multitude of hair problems including dry, damaged, breaking, and brittle hair. Especially for those with thin hair, this deep conditioning treatment can also encourage hair growth when used on a regular basis.
Homemade Deep Conditioner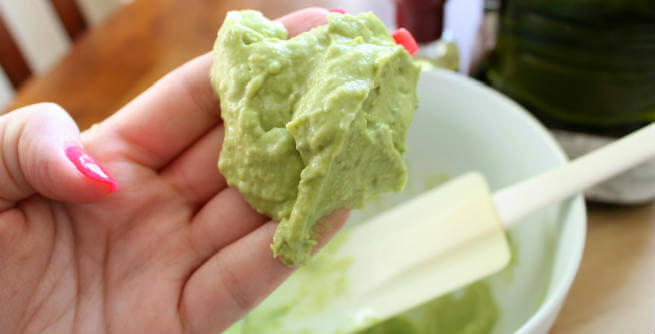 You'll Need:
1 ripe avocado
1/2 cup olive oil
1/4 cup melted shea butter
2 tbsp apple cider vinegar
Directions:
Using a fork, mash one ripe avocado and add in the olive oil. Stir well.
Melt 1/4 cup of shea butter and add to the avocado/olive oil mixture.
Add in the ACV and stir well.
Apply the mixture to dry, unwashed hair and work through hair, gently massaging into the scalp.
Cover with a towel or a shower cap and leave on for 30-45 minutes.
Rinse out and shampoo/condition as normal.
Repeat 2-3 times a week.
Why It Works:
Avocado, olive oil, and shea butter are all packed full of proteins and fatty acids which inject the hair with a ton of moisture. This is especially important for those with dry, breaking hair, as all of these ingredients penetrate the hair deeply to repair, bring back shine, and smooth.
Apple cider vinegar is a natural cleanser and will remove any hair buildup.
Use consistently (2-3 times a week) to encourage hair growth, treat split ends, fix damage, and give hair much needed moisture.
If you like this post, don't forget to share 🙂