Looking for the perfect hydrating lotion? This DIY coconut aloe lotion works on ALL skin types to quench dry, thirsty skin and leave it feeling and looking silky smooth. If you love making your own beauty products, this DIY coconut aloe lotion will be no exception – the ingredients are natural and the recipe is easy! Plus, you'll know exactly what'll be going into your products – natural, organic ingredients that don't irritate.
Of course, like with any homemade recipe, it's important to test a small area first to make sure you're not allergic to any of the ingredients!
DIY Coconut Aloe Lotion Recipe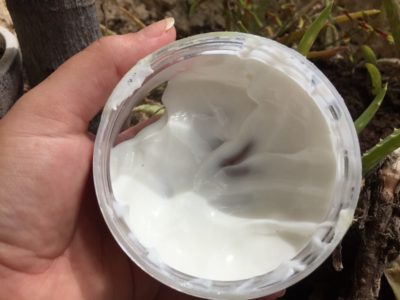 You'll Need:
2 tbsp coconut oil
2 tbsp carrier oil of your choice (almond oil, coconut oil, avocado oil, olive oil, etc…)
1/2 tsp vitamin E oil OR 3 vitamin E capsules
2 tbsp vegetable emulsifying wax
1 cup distilled water
1 tbsp aloe vera juice
1/2 tsp vegetable glycerin OR honey
Directions:
To a pot, add the coconut oil, carrier oil, emulsifying wax, and vitamin E oil.
Heat on low and gently stir.
While the wax and oils are melting, stir the distilled water, aloe vera juice, and vegetable glycerin OR honey into a separate bowl.
Once your oils and wax have melted, slowly start pouring the water and aloe mixture into the oils/wax mixture.
While you're pouring, gently stir.
Let the lotion cool for a little bit, but not completely.
Letting it cool completely will thicken the lotion (this will be a very nice and thick lotion!) and will make it very hard for you to pour into another container.
Once slightly cooled, pour into a clean lotion pump or any other container of your choice.
Your DIY coconut aloe lotion is now ready to use!
Use the lotion every night before bed, and focus on rough spots such as hands, feet, knees, and elbows, as well as after every shower for super soft skin!
Like this post? Share and Pin 🙂