It's a new year and that means a new you! This DIY cucumber mint scrub is as fresh as it sounds and will leave your skin squeaky clean and glowing! Made with 100% natural ingredients (such as cucumber and mint obviously), this scrub will invigorate your senses and slough off dead skin cells to reveal softer, younger looking skin in a pinch! This DIY cucumber mint scrub is one of our all time favorite body scrubs because it's ridiculously easy to make and it smells absolutely heavenly!
DIY Cucumber Mint Scrub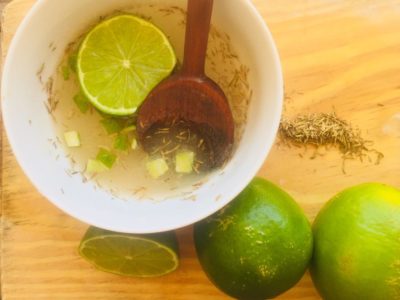 Mint has anti-inflammatory and anti-bacterial properties and will therefore treat a slew of different skin problems such as acne or eczema. Mint is also invigorating so this is the perfect scrub to use on groggy mornings as it will wake you right up!
Cucumber contains mostly water and is extremely moisturizing, so those suffering from dry skin can really benefit from this scrub.
Sugar is a natural exfoliator that will slough off dead skin cells to reveal newer, softer, and younger looking skin.
Coconut Oil is naturally moisturizing and contains a high amount of fatty acids which helps with acne, wrinkles, spots, and cellulite.
Ingredients:
3/4 cup granulated sugar
a handful of mint leaves
1/2 cucumber, unpeeled
2 tbsp coconut oil
Directions:
To a blender or food processor, add all ingredients.
Blend until a smooth paste forms.
Store in an airtight glass jar or container and use in the shower as you would any other scrub!
Use 2-3 times a week for soft, flawless looking skin!
If you like this post, don't forget to share 🙂