If you love all things beauty products, you've probably stumbled upon this cucumber water gel formulated by the Korean company TonyMoly (they also make those awesome Korean sheet masks). Although I haven't tried it yet, the reviews DO seem to be pretty amazing, so we though, why not make our own? If you read this blog, you know how crazy obsessed we are with everything DIY, so we thought we'd give it a go and make our own DIY cucumber water gel.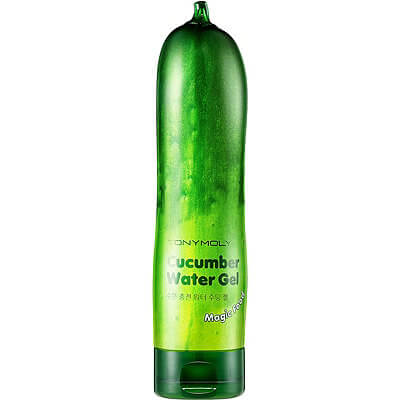 DIY Cucumber Water Gel Recipe
So we took a look at the ingredients that were in the original formula, and we were not impressed. Half of the ingredients we couldn't even pronounce, while the other half were a bunch of chemicals, perfumes, etc…All of that stuff is certainly NOT good for your skin, so as much as people seemed to love it, we really did not!
Making your own ANYTHING is always the best choice because you know exactly what goes into it, and all the ingredients are natural.
This DIY cucumber water gel recipe we came up with feels amazing on sensitive skin, hydrates dry skin, and is the perfect after-sun lotion. It contains only cucumber, aloe vera gel, and castor oil. Here's how to make it:
You'll Need:
1 cucumber
aloe vera gel
1 tbsp castor oil
essential oil (optional)
Directions:
In a blender, add 1 cucumber, and fresh aloe vera gel. If you don't already have an aloe plant, you definitely should! Aloe vera is one of the most amazing plants for both the skin and hair and you can literally make hundreds of things out of it!
Add enough aloe vera gel until it becomes a gel like consistency.
Add your castor oil and essential oil if using and blend again.
Pour mixture into a clean, air tight glass jar and store in the fridge for a couple of hours.
Apply the cold gel directly to the skin – it will feel AMAZING especially on sun burnt skin.
The only downside to making our own cucumber water gel is that it won't last long. Since it doesn't contain any additives, it will only keep for a day or two, until the cucumber starts to break down.
BUT we figure this is pretty easy to make, so whenever you need a cooling gel, it will only take a minute!
If you like this post, don't forget to share 🙂