For those with oily hair, it can be hard to find the perfect dry shampoo that ACTUALLY works, but this DIY dry shampoo spray for oily hair is something else! After lots of trial and error, we've come up with the perfect dry shampoo especially for those with super oily hair. It doesn't stain your clothes or you hair, it doesn't weigh it down, and it won't break the bank. The only thing it does? Soaks up all that oil, making your hair look oil free and freshly washed!
DIY Dry Shampoo Spray for Oily Hair – Recipe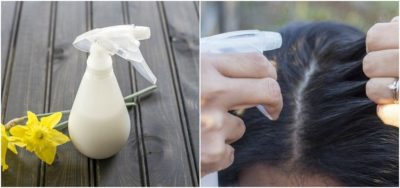 You'll Need:
3 tbsp high proof alcohol (at least 50%, and if you can find 99% proof, use only 2 tbsp and mix in with 2 tbsp of water).
1 tbsp distilled water
1/2 tsp calcium carbonate (important ingredient as this is the stuff the will soak up the oil!)
1o drops lavender essential oil or essential oil of your choice (for scent)
Directions:
In a 2 oz bottle, add all ingredients one by one using a funnel.
Shake well to mix all ingredients.
How to Use:
Shake well before each use.
Hold up a section of hair and spray at the roots.
Tousle hair at the roots and spray more if needed.
Like this post? Share and Pin 🙂