Making your own scrubs is as satisfying as can be: it's cheap, it's easy, and best of all, it's 100% natural! For those with problem skin, homemade scrubs can be even more beneficial as there are no artificial dyes, alcohols, or other unnecessary ingredients which can sometimes cause flare ups. This DIY grape seed sugar scrub is made with grape seed oil which is one of the most beneficial oils for dry, dehydrated skin.
DIY Grape Seed Sugar Scrub Recipe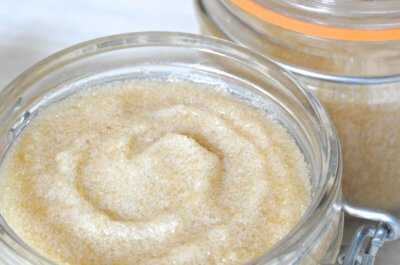 Ingredients:
Directions:
In a medium sized bowl, combine the sugar with the grape seed oil.
Mix until well combined.
Add your choice of essential oil and stir again.
Scoop scrub into a clean, airtight glass jar or container and it's ready to use!
How to Use DIY Grape Seed Sugar Scrub Recipe:
Use in the shower.
Wet skin and apply scrub to skin.
Scrub onto skin in slow, circular motions as if giving yourself a massage.
Work your way from the bottom to the top.
Rinse well and pat skin dry.
Use 2-3 times a week to slough off dead skin cells, reveal brighter, younger looking, and softer skin, and moisturize.
If you like this post, don't forget to share 🙂