Ever wake up and look in the mirror only to realize that you look like you've only slept for literally 30 seconds? Well, the feeling's mutual! Those puffy eyes and blotchy skin that we get in the morning can easily be fixed in just 1 minute with these DIY green tea mint ice cubes! These little ice cubes bring a powerful punch to help your skin reduces blotchiness and reduce puffy, swollen eyes. Another thing they do? They also help reduce acne scars, dark spots, and age spots! Who know a little ice cube could do SO much? And, if you like ice cube remedies, check out our potato cucumber ice cubes for dark spots!
DIY Green Tea Mint Ice Cubes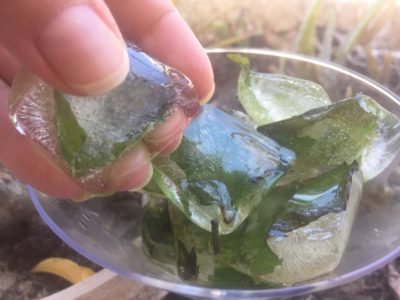 You'll Need:
ice cube tray or any mold of your choice
green tea (brewed, and cooled)
mint leaves
Directions:
Clean an ice cube tray or mold of your choice really well.
Rinse off some fresh mint leaves and dry with a paper towel.
Rip off small piece of the mint and place at the bottom of the ice cube tray.
Pour cold brewed green tea over the mint leaves.
Place in the freezer and let freeze for a few hours or overnight.
How to Use the DIY Green Tea Mint Ice Cubes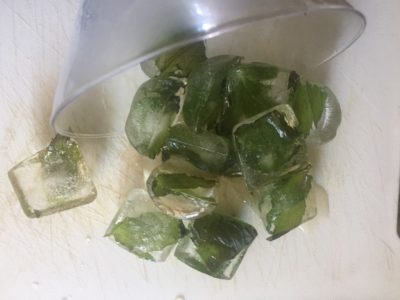 Pop a cube out of the tray and rub against skin right as you wake up! You'll only need to do this for a minute (plus, the ice will melt pretty quickly anyways).
Rub the cube over clean skin in slow, circular motions, focusing on puffy areas such as under eyes. If you have scars and dark spots, rub the cube over those spots as well.
Do this every morning to make skin look fresh, young, and to de-puff!
Benefits:
Green Tea is chock-full of antioxidants which helps slow the aging process. It also acts as a skin toner, improves skin texture and feel. Green tea is also great for soothing sunburns, and, when applied to the skin, acts as a de-puffer!
Mint also soothes the skin and reduces puffiness and blotchiness, all the while keeping acne and blemishes at bay, and keep the skin oil-free all day!
These DIY green tea mint ice cubes are AMAZING for the summer as not only do they reduce puffiness and scars, but they also keep your skin cool and preps it for the day ahead. Think of it as a super cool prime and prep solution!
Like this post? Share and Pin 🙂