For those with sensitive, dry skin, especially during these cold winter months, it can be hard to find the perfect face cream that will not only hydrate but also heal and protect. Commercial face creams are laden with preservatives, alcohols, dyes, and other unpronounceable ingredients which can further irritate the skin rather than soothe it.
This DIY green tea repairing face cream recipe checks off all the important skin problems: dry skin, irritated skin, and sensitive skin. We are SO in love with this repairing face cream recipe, we can't talk about it enough! For those of us with dry, irritated and sensitive skin, it felt like the most luxurious relief, and left our skin silky soft, hydrated, and supple!
Repairing Face Cream Recipe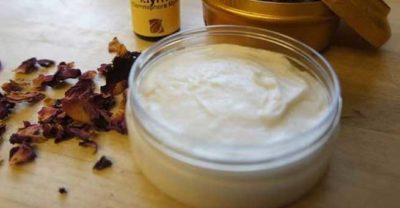 Ingredients:
The reason why this repairing face cream works so well is because of its amazing natural ingredients! Almond oil, coconut oil, and rosehip oil all work together to hydrate dry skin, all while leaving skin plump and silky smooth. Green tea works to soothe sensitive skin, and will do wonders for those with eczema and rosacea!
Directions:
Combine beeswax and all oils in a double boiler and melt on low heat, stirring occasionally.
Pour loose green tea into the melting oils and allow to warm up for about 15 minutes. At this point, the green tea is being extracted into the oil mixture.
Strain the mixture in a fine mesh sieve.
Use a hand mixer to whip the cream until creamy.
Scoop mixture out into a clean, sterilize airtight jar or container.
Store in a cool, dark place.
How to Use:
Apply cream on cleansed face every night before bed and every morning.
Focus on especially dry and sensitive areas.
Like this post? Share and pin 🙂