Making your own face and body scrubs can be such a fun thing to do, and it's especially true when it comes to kiwi scrubs! These DIY kiwi scrub recipes are super easy to make, but even better, they'll leave your skin silky smooth. Because kiwi fruit contains the little black seeds, they make great natural exfoliants for your skin. Not too rough to break the skin, but just tough enough to remove dead skin cells and give skin a deep, thorough cleanse. Below we've shared some of our favorite DIY kiwi scrub recipes. So if you ever have some leftover kiwis – don't throw them out because they make the perfect scrub!
DIY Kiwi Lip Scrub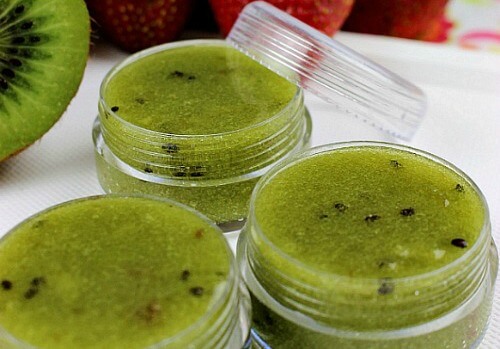 This quick and easy DIY kiwi lip scrub is super fun to make, but please bear in mind that it has a very short shelf life. In short, you should only make a small batch and use it once. The rest will need to be tossed away. But hey, it's better than throwing away that uneaten kiwi!
You'll Need:
1 tbsp sugar
1 tbsp grape seed oil or any other oil such as coconut or olive
1 tbsp kiwi
Directions:
In a small bowl, mix the sugar and oil until well combined.
Then, add 1 tbsp of kiwi pulp to the sugar and oil mixture and stir well.
Scoop into a clean container or jar and use right away!
The kiwi in the jar looks SO pretty because of the seeds, and it smells super fruity too! Simply apply the kiwi scrub to dry lips and massage with your finger in slow, circular motions. Rinse off or lick off! Follow up with a homemade lip balm.
Kiwi Face Scrub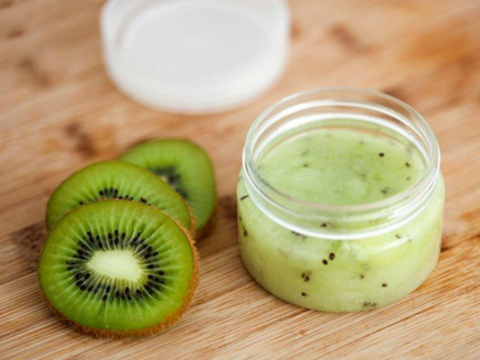 Similar to the kiwi lip scrub, the face scrub gently but effectively sloughs away dead skin cells to reveal smoother, softer skin. Regular use of the kiwi face scrub will also help with breakouts and excessive oil production.
You'll Need:
1/2 cup white sugar
1-2 tbsp extra virgin olive oil or coconut oil
2 kiwis
Directions:
Cut the kiwis and half and scoop out all of the pulp.
Mash the kiwi using the back of a fork, but do so gently, you don't want to completely squash the little black seeds.
Mix in the oil and sugar and stir well until all ingredients are combined.
Scoop into a clean, airtight jar or container and it's ready to use!
Kiwi Mask for Dry Skin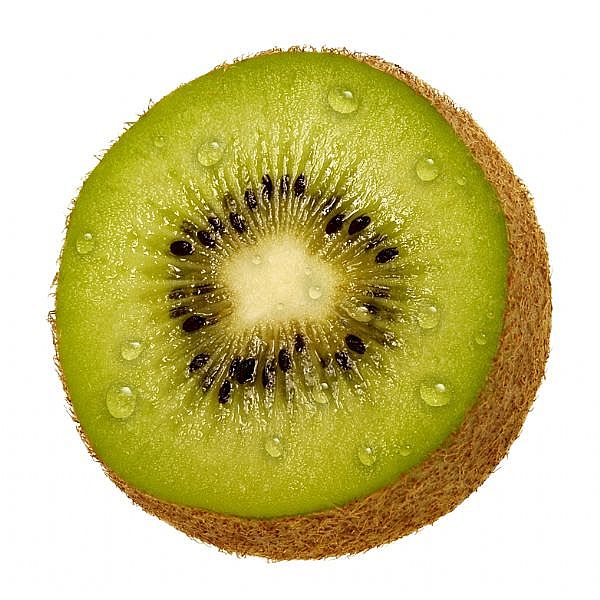 This super nourishing and hydrating face mask contains egg yolks to help tighten the skin, kiwi to exfoliate, and olive oil to moisturize. Use it once a week to get soft and hydrated skin.
You'll Need:
1 tbsp kiwi juice
1 tbsp olive oil
1 egg yolk
Directions:
In a small bowl, mix all ingredients together until well incorporated.
Gently massage face mask into skin in slow, circular motions.
Leave on for 15 minutes and rinse off with lukewarm water.
Strawberry Kiwi Face Mask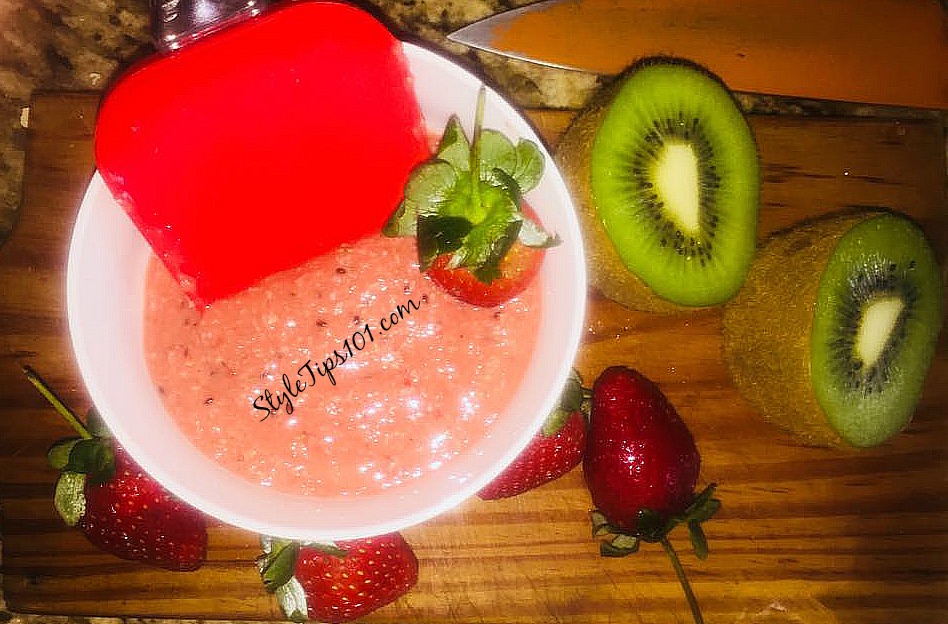 Both strawberries and kiwis help to exfoliate skin, leaving it glowing. So say goodbye to dull skin when you use this mask!
You'll Need:
4 strawberries
1 kiwi, peeled, and cut into pieces
4-6 tbsp oats (you may need more OR less to get the right consistency, so that the mask doesn't drip off)
1 tbsp raw honey
Directions:
To a blender or food processor, add all of the ingredients.
Puree until a smooth paste forms.
If you feel like that mask is too runny, simply add more oats.
Apply to a cleansed face and neck and leave on for 10-15 minutes.
You may feel a tingling sensation, and this is because of the acidic content of the kiwi and strawberry.
Rinse off and pat dry.
Follow up with your favorite moisturizer or learn how to make your own moisturizer!
If you have any leftovers, place in the fridge or freezer and enjoy later as a healthy snack or use again within a few days!
Benefits of Kiwi for the Skin:
Kiwis actually have one of the highest Vitamin C content of any fruit out there. They're also rich in acids and tons of other vitamins that are crucial to your health. Kiwis also contains Vitamins E and A which are essential for healthy skin and hair. The juice of kiwis tightens up enlarged pores, helps control excess oil production, moisturizes and also peels of freckles.
Prevents breakouts
Polishes skin
Removes dead skin cells (exfoliates)
Cleanses
Removes dirt and impurities
Detoxifies
Can help fade away scars and dark spots
Rejuvenates skin
Anti-aging