These 5 homemade coffee beauty products can be a quick and easy way to reduce and reuse old coffee grounds. Not only are you helping to save the planet, but your skin and hair will thank you as well!
Coffee, the classic morning beverage and waker-upper, has been gaining more popularity in recent years. A study done by the National Coffee Association found that 7 in 10 Americans drink coffee every week with 62% drinking coffee every day. But stimulating the mind is not the only benefit coffee brings. Coffee is loaded with antioxidants, phenols and is known for having anti-inflammatory and anti-bacterial properties, which make it a great go-to for external use on the body as well.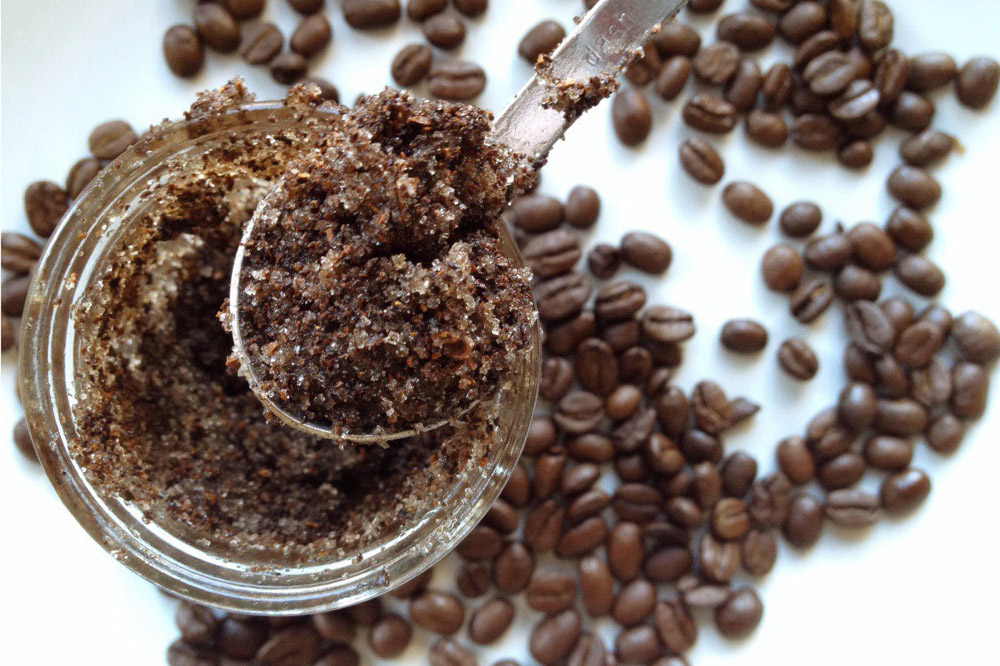 And with nearly every American coffee drinker consuming over 3 cups per day, that's a lot of beans and grounds! So while you slurp down your morning cup of joe, consider some of the many ways to use fresh and used coffee grounds to make some amazing diy coffee beauty products right in the comfort of your own home!
DIY Coffee Beauty Products to: Reduce Cellulite
The caffeine found in coffee can do more than just wake you up, it can also dilate blood vessels beneath the skin and really get the blood moving. The increased blood flow can minimize the appearance of cellulite and leave tighter, more even-looking skin.
The most effective way to use coffee for cellulite is by creating a scrub from fresh coffee grounds and massaging it into the desired areas. Try mixing 1 teaspoon of coffee grounds with hot water, coconut oil or an egg yolk. For best results, a cellulite scrub should be used multiple times throughout the week.
DIY Coffee Beauty Products to: Eliminate Baggy Eyes
The anti-inflammatory effects of coffee can be especially beneficial for decreasing bags and puffiness around the eyes. For a fresh, youthful glow right away in the morning, an eye mask or coffee cubes might just be the perfect solution!
For an eye mask, try mixing fresh coffee grounds with an egg white or cold water. Apply the mask and let sit for 15 to 20 minutes then rinse with cold water. The chill will help with swelling while the coffee will help with blood flow, tightening the skin and eliminating sleepy-eye bags.
Another trick is to pre-make coffee cubes. Simply fill an ice-cube tray with coffee and leave to freeze overnight. In the morning rub one cube under the eyes and elsewhere around the face. Like the mask, the cold reduces swelling and the coffee increases blood flow, leaving skin glowing and fresh.
Coffee to Exfoliate Skin and Scalp
An important part of any beauty program is exfoliating the skin to remove dead skin cells and allow the new skin to shine. Coffee is an excellent addition to a DIY exfoliant and a great way to use old grounds. Try mixing ¼ cup of coffee grounds, ¼ cup brown sugar, and ¼ cup melted coconut oil with a squeeze of lemon juice. Once combined, rub onto clean skin and scalp and let sit for a few minutes. Rinse and moisturize as usual. Use throughout the week for best results.
Coffee Food Scrub for Soft Skin
Because coffee grounds do not dissolve in water, its rough, sand-like texture is great for removing tough skin from the bottoms of feet. This can leave feet soft and smooth. For best results a foot soak and scrub combination is recommended. Fill a low bucket or bowl with warm water and allow the feet to soak for 5 to 10 minutes. Mix ½ cup coffee grounds with ½ cup olive or coconut oil and apply the mixture to wet feet, rubbing coarsely to remove the dead skin. Rinse with warm water and pat dry. Moisturize with coconut oil if needed.
Coffee to Get Darker Hair
If looking for an easy solution to naturally darkening your strands, coffee may be just the ticket. Simply brew a few cups of strong coffee and let it cool. Once cooled, pour the coffee into a bucket or basin and dip your head in fully wetting all your hair. Cover with a shower cap and leave to soak for 1 to 3 hours. Rinse in the shower and repeat if you desire darker strands.
Looking for more ways to use up used coffee grounds? Check out how to make coffee oil – this quick and simple DIY recipe is a must make for anyone who loves the smell of coffee (not to mention the hundreds of uses!).