Cellulite has long been an enemy on the frontlines of beauty, and when it comes to fighting the notorious dimpled flesh, it can feel overwhelming and pointless as the market is flooded with ways to combat the dreaded C-word. And, while cellulite is a normal part of aging (particularly in women), reducing its appearance or existence can feel good and mood lifting. One such product to consider adding to your arsenal of cellulite defense is anti cellulite leggings. And with so many brands and styles out there, there is surely one worth trying!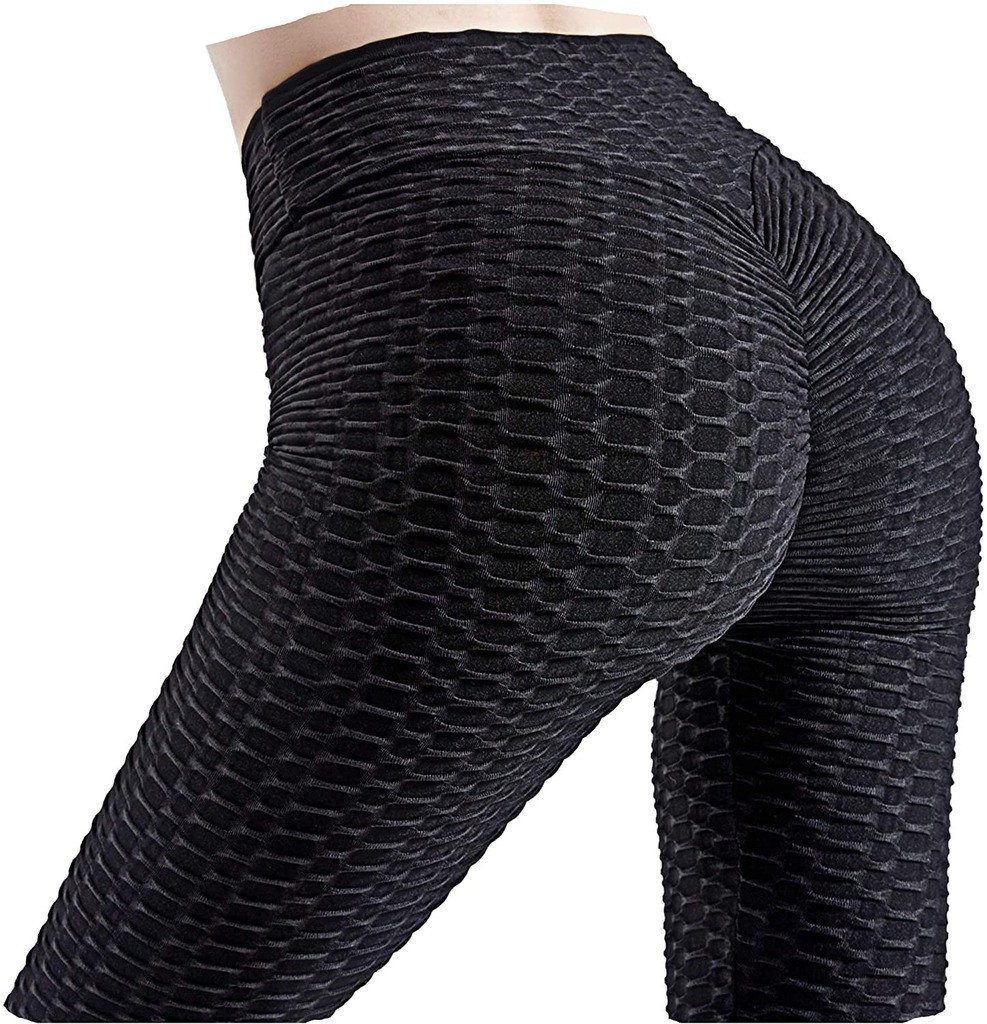 What Are Anti Cellulite Leggings?
Many of us have an extensive stash of leggings for everything from yoga class to cocktail hour due to the functionality and generally being quite comfortable. The materials for leggings range from cotton to wool to spandex and beyond. And while they are super comfy, they don't always do much more than that.
Anti cellulite leggings on the other hand, are designed specifically to give the legs, booty and stomach a firmer look, all while also lifting and sculpting common problem areas of the lower body. To do that, anti cellulite leggings are made from specialty stretch materials such as allure, an Italian fabric designed by the company Tessitura Taiana that uses emana, a polyamide-based yarn. In addition, allure contains a patented additive that provides Far Infrared Ray (FIR) emission, which is an invisible part of the spectrum of sunlight, according to Italy Magazine. The really cool thing is that this FIR emission can actually interact with skin and the surrounding tissue to improve blood microcirculation by up to 90% which can combat cellulite! Other materials often used in the production of anti cellulite leggings include combinations of spandex, polyester, neoprene and other polyamide-based fabrics.
Do Anti Cellulite Leggings Work?
Anti cellulite leggings are also famed for commonly having a honeycomb texture. They give extra lift, contour shaping and hide lumpy, dimpled skin. Other textures include bubble, ribbed or geometrics. Along with sculpting textures, anti cellulite leggings typically have a high waist. This further assists with tummy control and for comfort and support when working out.
Like regular workout leggings, anti cellulite leggings utilize materials that assist with anti-odor and moisture control. This makes them perfect for yoga class followed by a trip to the coffee shop.
Other good news is that anti cellulite leggings are not strictly full-length leggings. The materials, shapes and designs used, also come in knee-length, ankle-length, and shorts. This ensures you have the anti cellulite appearance and confidence you need in a variety of looks.
Anti Cellulite Legging Brands
Seasum, a popular athletic clothing brand found online, has multiple products featuring all the anti cellulite attributes such as honeycomb texture, high-waists, compression effect and butt lifting and sculpting as well. Most Seasum reviews are positive and the products come highly recommended. What Wear Fit even gave Seasum the highest rating in a recent review!
Another popular brand in the booty sculpting and anti cellulite space is Slide Leggings. Their signature fabric, FirmWeave, is a honeycomb sculpting fabric made to lift and sculpt the flattering parts of your body. In addition, their products include polyamide microfibers that contain bio-active mineral crystals that can actually micro-massage your hips. And just as important, the Slide leggings are made with multiple materials that provide a 4-way stretch system, which is guaranteed to offer extreme comfort. Reviews are hot on these as one reviewer praised, "I'm going to buy more! They're comfortable, make my butt look awesome, hide my cellulite, and my boyfriend is obsessed with them."
Other notable brands to check out include Amelia Activewear, Top Rio Shop,and Peach Booty.
With so many brands utilizing the anti cellulite materials, textures and styles, and most importantly offering cellulite freedom, it is a great way to look and feel your best whether at the gym or out on the town!