If you're looking to lighten and brighten your skin, look no further than this DIY lightening face mask with honey and papaya! An all natural face mask that uses the powerful properties of honey and papaya to rid the skin of scars and discoloration. This is a super simple mask to make and requires only two ingredients: honey and papaya, which are both powerhouse ingredients!
DIY Lightening Face Mask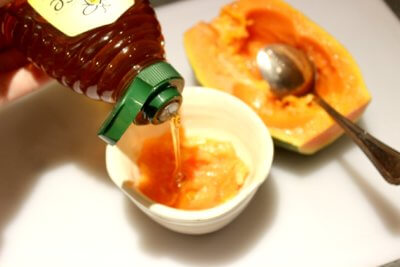 Ingredients:
2 tbsp honey
1/2 cup ripe papaya
Directions:
In a bowl, mash a ripe papaya and mix in honey.
Apply to a clean face and leave on for 20-25 minutes.
Rinse off with lukewarm water and pat dry.
Repeat twice a week to fix hyper pigmentation, uneven skin tone, scars, and dark spots.
Why This DIY Lightening Face Mask Works:
Papaya contains proteins, vitamins, minerals, and enzymes which are crucial to healthy skin, and is considered to be one of the best natural skin ingredients. Papaya is also a natural skin lightener, and so it's extensively used in a lot of commercial face masks and creams to lighten skin tone and remove scars. Containing moisturizing properties, papaya also keeps wrinkles and fine lines at bay and can cure acne.
Honey is an anti-bacterial and cleansing agent which keeps skin free of any dirt and bacteria which may clog pores resulting in acne and scars. Honey is also a natural moisturizer and cleanser all in one and when combined with papaya, a powerful combination emerges!
If you like this post, don't forget to share 🙂