A loofah is like a little slice of heaven for your skin: it gets rid of dirt, impurities, dead skin cells, and reveals an almost magical quality of your skin that you never knew it had! Buying a loofah soap is cool and all, but what's even cooler is making your own! So grab your girlfriends or your kids this weekend for a super fun DIY loofah soap recipe project that will have you making THE best loofah soaps you've ever tried!
DIY Loofah Soap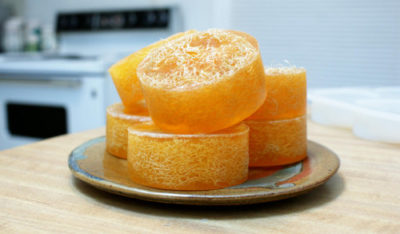 You'll Need:
30 oz clear detergent free glycerin melt & pour soap base
20 drops essential oil of your choice
20 drops liquid soap colorant of your choice
5 inch loofah
Directions: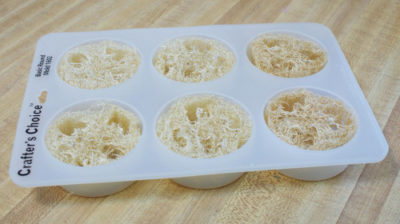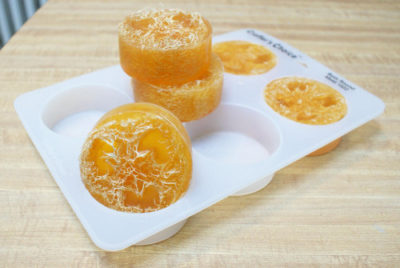 Start off by slicing your loofah using a bread knife. Cut each slice to about 1″ thickness.
Place the loofah slices in the mold of your choice such as a muffin tin or a shaped mold.
Melt your soap base into a microwave safe dish just until melted and mix in the rest of the ingredients.
Pour the liquid mixture over the loofahs in the mold. As you pour, the loofahs will absorb some of the liquid, so you may go back and continue filling them until they are full.
Let the soap base harden into the loofah and pop them out of the mold gently.
They are now ready to use or gift!
Simply wet the loofah while in the shower and scrub against skin for clean, clear, and flawless skin!
Like this post? Share and Pin 🙂
Source: Soapdelinews