Onions for hair growth?!? You BET! Onions aren't just fragrant little vegetables that you throw into your stirfry, but rather, a long held hair growth secret that needs to be shared with the world! Although onions for hair growth have actually been used for thousands of years, it's only recently made a comeback, but today we'll show you a DIFFERENT variation than  in our previous article…a DIY onion hair oil!
So why is onion oil better than just onion juice for your hair? Well for starters, we're basically extracting ALL the goodies form the onion and making it into an oil, therefore making it much more concentrated. And more concentrated means better working, so you'll see faster, more effective results!
DIY Onion Hair Oil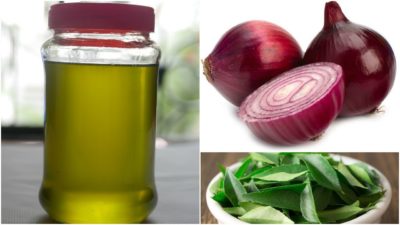 The Lowdown:
Onion oil is easy to make and only requires a few ingredients which you probably already have at home!
It can be applied as often as you wish because it's gentle, and won't harm the hair or skin.
Strengthens hair at the roots, encouraging for fast and healthier hair growth.
Promotes a healthy scalp.
Prevents dandruff.
Diminishes lackluster hair and prevents split ends.
Leaves hair shiny, hydrated, and super soft.
Gets deep into the hair shaft to moisturize and cleanse.
Prevents grey hairs
Prevents and stops hair loss
One of THE best hair growth treatments you will EVER encounter!
The Recipe:
2 cups coconut oil
5-6 onions
0.5 oz curry leaves (a small bowl)
The Directions:
Peel and chop up the onions.
Pour the coconut oil into a pot and start boiling it.
Once the coconut oil reaches boiling point, add in the chopped up onions and curry leaves.
Boil for 40 minutes.
Let cool for 2-3 hours.
Once the mixture has cooled, pour it into a clean, airtight bottle, passing it through a mesh colander (you don't want the onion and curry leaves in the oil).
How to Use Onion Oil For Hair Growth:
Use 2-3 times a week, preferably overnight, but if not, leave on for at least 30 minutes.
Massage oil into scalp for 5 minutes. Cover the rest of the hair with the oil, focusing on scalp and ends.
Leave on for at least 30 minutes, but overnight is best.
Wash out with shampoo and conditioner and repeat as often as you like, but the more you do it, the faster the results!
Like this post? Share and Pin 🙂