If you've ever used Lush's Rub Rub Rub sea shower scrub, you know it totally takes you away to a very tropical place and there's nothing more relaxing. This DIY Lush inspired sea shower scrub mimics Lush's Rub Rub Rub sea shower scrub by using the same main ingredients and exfoliating to the max. It's super easy to make and you probably already have all the ingredients in your kitchen (serious bonus, because you can start right now!). The only difference is that this sea shower scrub does not lather like Lush's, unless you have some really complicated, unpronounceable ingredients in your home! For now though, this version works JUST as well and will leave your skin silky soft!
DIY Lush Inspired Sea Shower Scrub Recipe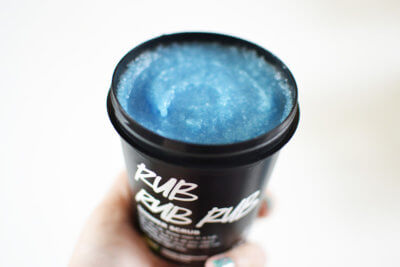 Ingredients:
3 tbsp fine sea salt (sea salt is always better for the shower as the warm water dissolves it and won't clog your drain!)
1 tbsp lemon juice
1 tbsp orange blossom water or rosewater
1 tbsp coconut oil
a few drops of mimosa, jasmine, and lemon essential oil (optional, if you want it to smell like Lush's version!)
a few drops of blue food coloring (optional, if you want it to look like Lush's version!)
Directions:
In a small bowl, melt the coconut oil. Remember that coconut oil solidifies, unless you live in a warm climate. If you don't want to stir every time before use, you can substitute coconut oil for almond oil or olive oil.
Once melted, add the sea salt and stir well.
Then, add the orange blossom water or rosewater, lemon juice, and a drop of food coloring. Stir well.
If you're using the essential oils, add those in now.
And you're all set! Use in this shower twice a week to slough off dead skin cells and reveal beautiful, soft, glowing skin!
If you like this post, don't forget to share 🙂