This DIY Lush Solid Body Butter recipe is super easy to replicate and it's an exact dupe of Lush's solid body butter! There is nothing funner than replicating Lush stuff, especially since it saves you a TON of money! Use this solid body butter in the shower every day for super smooth skin! This recipe is super easy to make and once you have all the ingredients, the possibilities are endless! If you love Lush, check out these other DIY Lush copycat recipes:
Lush Cosmetic Warrior Face Mask
DIY Lush Solid Body Butter
***Makes 2 100 grams bars***
***Difficulty: EASY***
You'll Need:
78 grams refined cocoa butter
78 grams refined shea butter
14 grams ground rice
14 grams ground almonds
12 grams ground red beans
4 grams essential oil of your choice (Lush uses lavender and lemon oils but you can use whichever scents you prefer!)
mold for soap
Directions: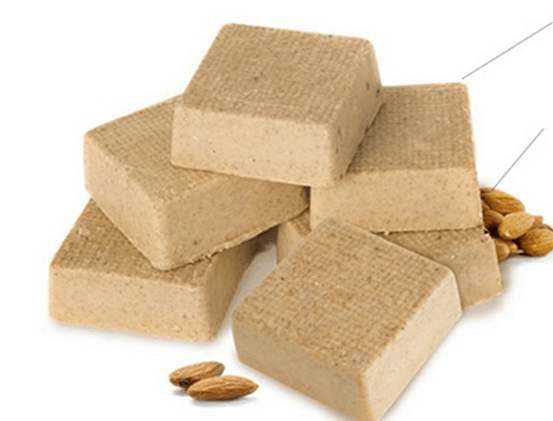 In a microwave safe bowl, melt your butters in 10-15 second intervals.
Stir in the ground rice, almonds, and red beans.
Let the mixture cool for a few minutes and add in your essential oil.
Place your mixture in the fridge to cool until it becomes opaque and and has slightly thickened.
Spoon mixture into your mold and bang it gently against the counter to release trapped air bubbles.
Put the mold in the fridge for about 20 minutes.
After 20 minutes, the soap will have hardened and is ready to use! Pop it out and use in the shower!
Store in a cool, dry place, or in the fridge if you live in a warmer climate.
When you're ready to use your body butter bar, make sure you use warm water is it will not melt in cold water!
Don't forget to share and comment 🙂