With the holidays coming up, it's easy to spend a little too much money! Thankfully, there are many DIY options that your friends and family would LOVE to receive! Take this DIY peppermint bath bombs recipe. It's super easy to make, contains 100% all natural ingredients, and they smell amazing! So instead of buying useless gifts that most people won't even use, give your loved ones something special that's made by YOU and that they'll actually appreciate so much more.
Homemade Peppermint Bath Bombs
These bath bombs are super fizzy and they smell so Christmasy! Make them for yourself or wrap them up in a nice box or cellophane and give them as a gift!
You'll Need:
½ cup Baking Soda
 ½ cup Ball Jar Citric Acid
¼ cup Cornstarch
 ¼ cup Coconut Oil
4 drops Red Food Coloring
4 drops Peppermint Essential Oil
Directions: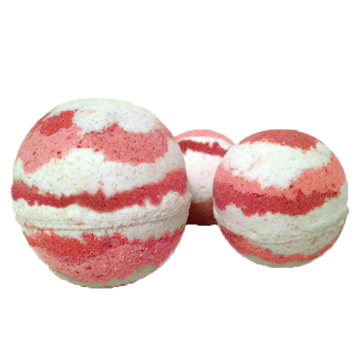 In a medium bowl, mix all dry ingredients. Separate the dry ingredient mixture into two separate bowls.
Add 4 drops of food coloring in one bowl and mix with your hands and fingers.
Next, add 2 drops of peppermint essential oil into each bowl and mix again with your hands and fingers.
In a microwave safe bowl, mix 1/4 cup coconut oil (about 20-30 seconds should do it).
Add 1/8 cup coconut oil to each bowl, pouring in slowly.
Mix well with your hands. The consistency should be that of sand.
Start pouring your mixtures into a preferred mold (any shape you want).
You have a white mixture and a red mixture, so combine one on top of each other to achieve that peppermint swirl.
Press the mixture in firmly with your hands.
Let your bath bombs dry up for about 12 hours. Depending on your climate, you may need to place it in the fridge.
Makes 6 bath bombs.
Wrap them up and give them away as gifts!
Leave a comment below and don't forget to share 🙂