While pomegranates are absolutely delicious eaten raw or juiced (even better!), they also serve another amazing purpose: to cleanse the skin, purge oily & dirt, and pull excess oil! This DIY pomegranate face mask is easy to make, and works best on oily & combination skin, as well as acne prone skin.
Pomegranates are packed full of antioxidants which cleanse the skin, detoxify it, and provides it with much needed nutrients such as vitamin B, C, and K which rejuvenate the skin, giving it a beautiful glow! So relax, sit back with your pom juice, and let your skin feel the benefits of this superfruit!
DIY Pomegranate Face Mask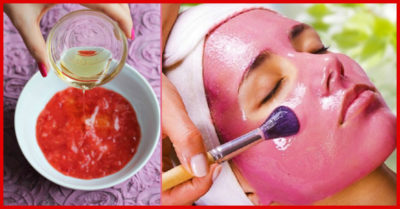 Ingredients:
Handful of pomegranate seeds
juice of half a lemon
Directions:
To a food processor, add the pomegranate seeds and pulse on high until a smooth, paste-like consistency forms.
Scoop pomegranate paste into a small bowl, and squeeze the juice from half a lemon. Stir well.
Apply the mask to clean skin and leave on for 10-15 minutes.
Rinse off and pat dry.
Use twice a week to prevent acne, deep clean skin, and prevent wrinkles & fine lines.
Like this post? Share and Pin 🙂