This DIY pomegranate face mask is easy to make, and works best on oily & combination skin, as well as acne prone skin. While pomegranates (punica granatum) are absolutely delicious eaten raw or juiced (even better!), they also serve another amazing purpose: to cleanse the skin, purge oil & dirt, and pull excess oil!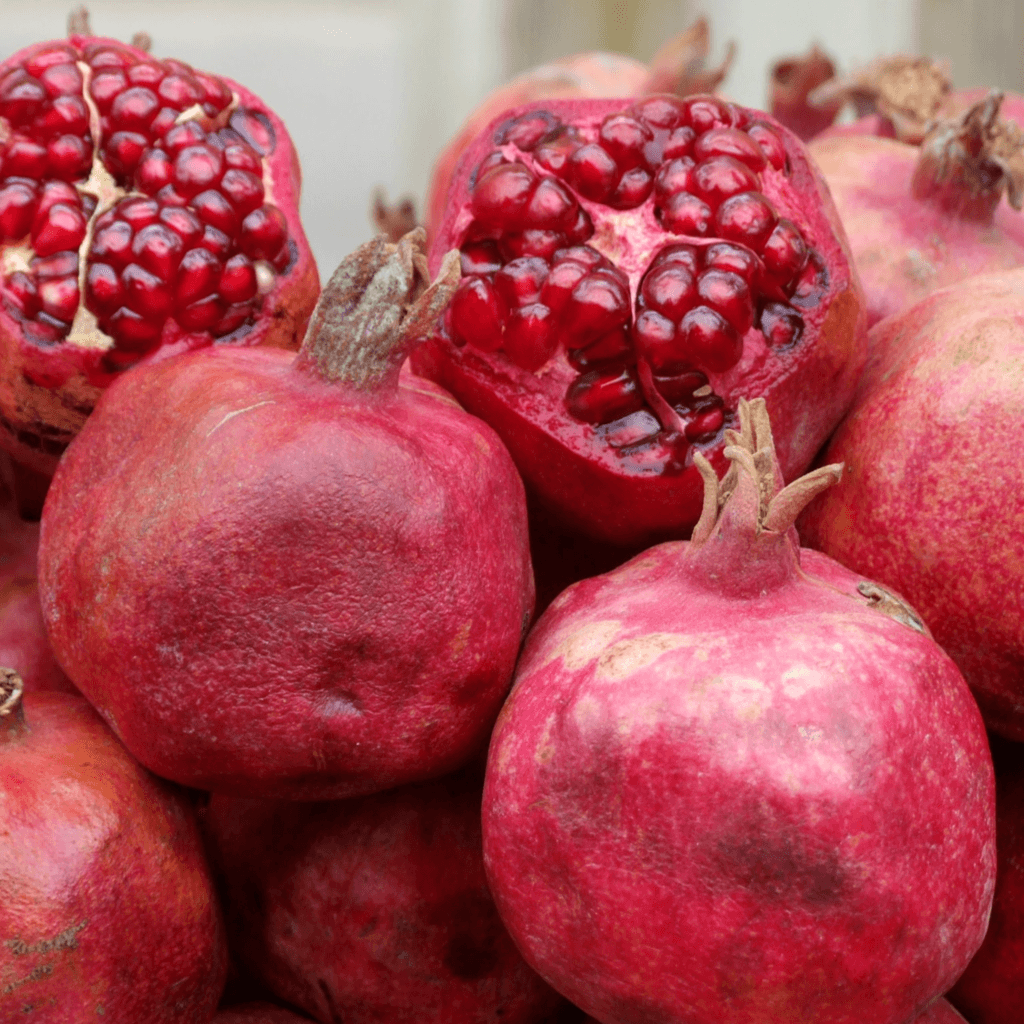 Pomegranates are packed full of antioxidants which cleanse the skin, detoxify it, and provide it with much needed nutrients such as vitamin B, C, and K which rejuvenate the skin, giving it a beautiful glow! So relax, sit back with your pom juice, and let your skin feel the benefits of this superfruit!
Benefits of Pomegranate Face Mask:
You may already know that drinking pure pomegranate juice or just consuming pomegranates is good for you. This super fruit is rich in vitamins, minerals, and antioxidants that your body needs. Regular consumption of pomegranate can improve your overall health.
But what about when applied to the face? The benefits of pomegranate for skin is aplenty!
Rich in vitamin C, a pomegranate face mask can help replenish moisture to dry, cracked skin. This in turn has a reverse effect on aging, making it a great mask for those with wrinkles, crows feet, and fine lines.
Pomegranates also helps reduce redness, irritation, and spots. Acne scars, age spots, sun spots, and dark spots can all become a thing of the past when the mask is applied on a regular basis. The pomegranate is about 82% water, which means it's a great moisturizer.
Containing anti-inflammatory properties, pomegranates are also great for those suffering from acne and/or oily skin. Polyphenols in pomegranates are very powerful antioxidants which can protect the skin from sun damage.
Additionally, pomegranates also help to exfoliate, getting rid of dead skin cells. Because of this, it helps with cell turnover and it also anti aging. Pomegranates are super rich in antioxidants, and are therefore a great fruit extract to add to any face mask!
DIY Pomegranate Face Mask Recipes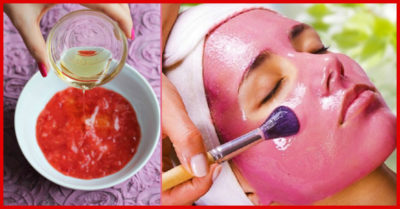 Pomegranate Seed Face Mask
This pomegranate seed face mask is fast and easy to make and is great for those with oily and acne prone skin. Pomegranate seeds are packed full of antioxidants, while lemon juice or green tea cleanse the skin and prevent breakouts.
Ingredients:
Handful of pomegranate seeds
juice of half a lemon OR green tea
Use lemon juice to treat oily and acne prone skin, and use green tea for sensitive, dry skin.
Directions:
To a food processor, add the pomegranate seeds and pulse on high until a smooth, paste-like consistency forms.
Scoop pomegranate paste into a small bowl, and squeeze the juice from half a lemon. Stir well. If you're using green tea, add enough cold brewed tea to form a smooth paste.
Apply the mask to clean skin and leave on for 5 to 10 minutes.
Rinse off and pat dry.
Use twice a week to prevent acne, deep clean skin, and prevent wrinkles & fine lines.
#2. Pomegranate and Rice Flour Face Mask
This pomegranate and rice flour face mask is great for those who have dry or sensitive skin. While the pomegranate exfoliates and cleanses, rice flour gently hydrates.
Ingredients:
Pomegranate juice
Rice flour
Directions:
In a small bowl, add some rice flour.
Slowly pour in the pomegranate juice and stir at the same time until the mixture becomes a mask-like consistency.
Apply all over face and neck and let sit for 10 to 15 minutes.
Rinse off with warm water and pat dry.
Repeat once or twice a week for best results.
NOTES:
Be sure to do a small patch test on your arm before applying. Some people may be allergic to pomegranates.
If possible, try to use 100% pomegranate juice without any sugar or additives.
Additionally, organic pomegranates are recommended.
If any irritation or adverse side effects occur, please discontinue use.
Like this post? Share and Pin 🙂