This DIY the Sacred Truth Lush mask is super easy to recreate and will save you a ton of money!
Are you as in love with Lush products as we are? Of course you are! Unfortunately, our wallets won't always allow us to splurge one each and every single Lush products so that's why we make our own!
Today we'll be making a copycat of The Scared Truth Lush face mask which is a face mask that uses green tea and ginseng as its main ingredient and is perfect for sensitive skin as the green tea calms redness and irritation, while yogurt soothes and hydrates dry, irritated skin.
But whatever type of skin you have, this DIY Sacred Truth Lush mask copycat recipe will work on ANY skin type from aging to oily and everything in between! Let's dive in ya'll!
The Sacred Truth Lush face mask is part of the fresh face masks collection which strives to bring you only the freshest and most natural ingredients. Today we'll try our best to replicate Lush's version using simple to find, cheap ingredients.
This fresh face mask will work just as well as its commercial counterpart, and it's a fun little project to do with your girlfriends or even with your kids!
DIY The Sacred Truth Lush Mask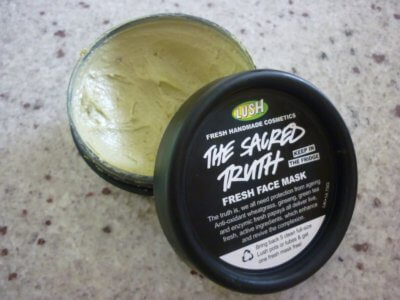 You'll Need:
3 tsp green tea (derived from tea bags, usually about three)
1 tsp brown sugar
2 tsp Greek yogurt OR sour cream (whichever you have on hand is just fine!)
1 tbsp fresh papaya pulp
The Lush version also contains wheat grass, linseed, eggs, shea butter, and ginseng, but we've simplified this version for home use. The greek yogurt acts as the moisturizing part of the mask and replaces the eggs and shea butter.
Benefits of the DIY Sacred Truth Lush Mask:
Reduces redness and puffy skin
Soothes and calms irritated skin
Hydrates
Reduces wrinkles and fine lines if used on a regular basis
Prevents breakouts
Green Tea is a natural detoxifier and helps to purify the skin. It also helps calm down redness and irritation. Gently cleanses and tones the skin.
Brown Sugar gently exfoliates the skin, removing dead skin cells and leaving skin soft and smooth after just one use.
Greek Yogurt/Sour Cream adds moisture and hydration to dry, parched skin. Both of these ingredients also contain lactic acid which aids in the removal of dead skin cells. Skin looks softer, clearer, and glowing.
Papaya helps to brighten otherwise dull skin, and also helps eliminate fine lines, crows feet, and visible wrinkles. Also packed with antioxidants, vitamins, and minerals.
I like to use this mask 2-3 times a week, especially if my skin is puffy and irritated. This mask has the ability to retain moisture, and therefore is really great for those with dry and sensitive skin.
Directions:
In a small bowl, mix in your brown sugar and Greek yogurt or sour cream until a paste forms.
Open up some green tea bags and measure about 3 tsps.
Add the green tea into your brown sugar and Greek yogurt/sour cream mixture.
Mix well until all ingredients are incorporated.
Apply the DIY Sacred Truth Lush mask to a clean face and neck and leave on for 20 minutes.
Remove mask by gently massaging into the skin for 2-3 minutes in slow, circular motions.
Rinse off with cold water and pat dry.
This mask is gentle enough to be used several times a week, especially if you have dry, cracked skin. Highly recommended for those with sensitive skin as well, and especially during the cold, winter months.
If you like this post, don't forget to share 🙂