If you're looking to tighten your skin, look no further than this DIY skin tightening mask with egg white! Egg whites have been used for hundreds of years to turn back the signs of aging, lift the skin, and reduce the appearance of wrinkles. Because of the proteins found in egg whites as well as their whitening and tightening properties, it's no wonder it's the most WIDELY USED beauty ingredient! Today we're going to show you how to get tight, young looking, glowing skin with this DIY skin tightening mask!
DIY Skin Tightening Mask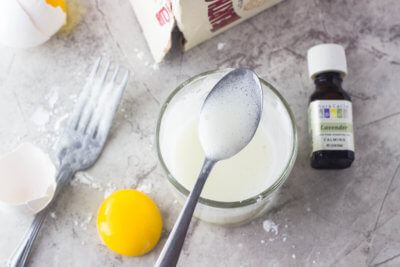 You'll Need:
1 egg white
1 tbsp corn flour
2 tbsp fine sea salt
a drop of chamomile essential oil or lavender oil
Directions:
In a medium sized bowl, beat the egg white and add in the rest of the ingredients.
Stir well until a smooth paste forms.
On clean skin, apply the mask all over face and neck.
Leave on for 25-30 minutes. The egg white should tighten on the skin.
Remove the mask with a wet washcloth and rinse off any leftover residue.
The Benefits of the DIY Skin Tightening Mask:
Egg whites are packed full of protein which penetrate the skin to fill in any fine lines and wrinkles. At the same time, egg whites tighten the skin and also lighten any dark areas such as dark spots and pigmented skin.
Corn flour is a natural skin lightener so it's perfect for those with acne scars, dark spots, or sun damaged.
Sea salt gently exfoliates the skin, getting rid of old, dead skin cells, and revealing newer, younger looking skin.
Chamomile essential oil or lavender essential oil acts as a skin soother to fight off any redness or irritation.
Use this mask 2-3 times a week to prevent and reduce the appearance of wrinkles as well as to tighten the skin.
If you like this post, don't forget to share 🙂