You know that turmeric is a great ingredient not just in your kitchen, but in your beauty regimen too. Turmeric cleanses, detoxifies, erases dark spots and scars, and reduces inflammation. A lesser known use for turmeric though is as a DIY turmeric toothpaste which is a natural (and much healthier) alternative to commercial toothpaste. Commercial toothpaste, as you may know, contains a slew of chemicals, dyes, and alcohols that, over time, can do a lot of harm to the body. Therefore, more and more people have turned to natural toothpastes, such as this DIY turmeric toothpaste!
Not only is this toothpaste all natural without any dyes, preservatives, or chemicals, but it's anti-bacterial, deep cleansing, and whitening. Because turmeric is a natural whitener, it will get rid of stains, discolorations, and yellow teeth.
DIY Turmeric Toothpaste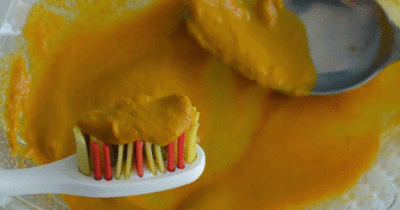 Ingredients:
Directions:
In a small bowl, mix all ingredients together until they form a smooth paste.
You may need to adjust the coconut oil amount to get just the right consistency.
Store in a clean, airtight jar and use as you would any other toothpaste!
You should see results after just one week: your breath will improve and teeth will whiten faster than with any other toothpaste!
If you like this post, don't forget to share 🙂