Flaxseed is a superstar plant food that has long been considered a wonder for the human body. That's why this homemade flaxseed facial scrub is SO great – it exfoliates and leaves skin glowing!
It has a long history of human use, not only for food but for textiles as well, being one of the first crops domesticated by man in the Fertile Crescent region some 10,000 years ago. Much later in the 8th century, King Charlemagne enacted a law that required his people to consume it because he was such a believer in its widespread benefits. Science has since confirmed such belief and has linked flax seed with an array of benefits for the body internally. But this vital plant source also has shown great potential to benefit us externally as well!
When applied topically, flaxseed can be a skin savior. It is packed full of omega-3 fatty acids which keeps skin hydrated and smooth and reduces wrinkles and lines. The natural oils in flaxseed help balance your skin's natural oil production and the antioxidants protect the skin from free radicals and sun damage while calming inflammation. A flaxseed-based facial scrub can be the perfect addition to your skin-care routine to keep your face young, healthy and glowing.
Sugar is a sweet addition not only in case you accidentally lick your face while the scrub is on, but for its glycolic acid compounds. When used as an exfoliator, glycolic acid removes the dead skin cells to leave fresher, brighter skin, while improving blood flow at the skin's surface. Sugar also works as a moisturizer, how sweet is that!
Coconut oil is another moisturizing powerhouse and is great for hydrating dry or irritated skin. It can reduce inflammation and aid in skin infections. Some skin types do not prefer coconut oil, if this is the case for you, substitute with something lighter such as jojoba oil.
Flaxseed Facial Scrub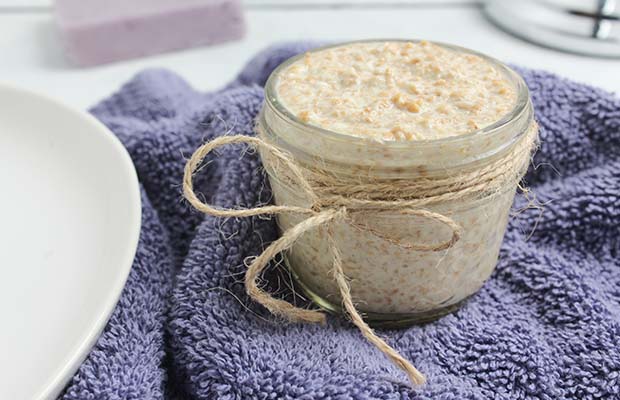 Ingredients:
1 ½ tbsp flaxseed meal
1 ½ tbsp sugar
3 tbsp coconut oil
Directions:
Combine all ingredients in a small jar or bowl and mix together. After washing your face, gently massage the flaxseed facial scrub onto entire face and neck rubbing in a circular motion for 1-2 minutes then let sit for 10 minutes. Rinse with cool water and pat dry. Use this scrub once or twice a week for best results.
Like this post? Share, Pin, and Comment Below 🙂