The cold winter months tend to dry up our skin, but this homemade grapefruit body butter can fix that! Made with simple, all natural ingredients, this body butter is super rich and will hydrate and moisture dry, cracked skin after just one use! We're in love with this homemade grapefruit body butter because it smells SO good you'll become addicted to it!
Homemade Grapefruit Body Butter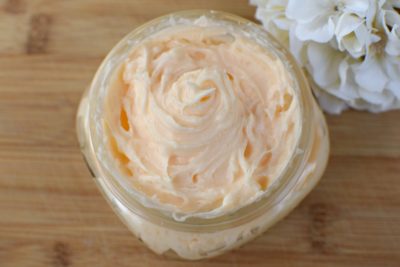 Ingredients:
Directions:
Melt shea butter in a microwave safe bowl or in a double boiler.
Add shea butter to a bowl with coconut oil and almond oil.
Use a hand mixer to whip the oils until stiff peaks form.
Stir in grapefruit essential oil and 1 drop natural red dye if using. You want to get it to a light pink color (that of a grapefruit).
Scoop body butter into a clean, airtight jar or container.
Use every night before bed.
Benefits of Homemade Grapefruit Body Butter:
Moisturizing
Healing
Erases scars and dark spots
Reduces the appearance of cellulite
Smooths skin
If you like this post, don't forget to share 🙂