Detox water drinks aren't just for weight loss and overall health – they also serve another awesome purpose and that is to give you radiant skin! You know the old saying…you are what you eat! These 5 DIY detox water recipes will cleanse your insides, and flush out nasty toxins to reveal beautiful, glowing, and radiant skin on the outside!
5 DIY Detox Water Recipes
When it comes to detox waters, it's important to focus on fruits and veggies that enhance the skin:
Citrus Fruits (Lemons, limes, grapefruits): Packed with vitamin C, these fruits help with collagen production and can prevent wrinkles, fine lines, and crows feet.
Strawberries: Rich in ellagic acid, folate, and vitamin C, strawberries help to neutralize cell damage caused by free radicals.
Apples: Rich in malic acid, apples help to cleanse and soften the skin by renewing cells.
Cucumbers: Packed full of antioxidants, cucumbers are super hydrating and skin plumping.
Mint: Rich in antioxidants and flavonoids, mint is known for soothing and healing inflammation and keeping acne away.
Watermelon: Helps flush the body of toxins and helps fight free radicals. Also hydrates and moisturizes.
Aloe Vera: Although known for its healing properties when applied to the skin, when ingested, aloe vera helps to brighten the skin.
Apple Cider Vinegar: Known for its healing properties, apple cider vinegar helps to balance bacteria in your gut and promotes weight loss.
Ginger: Reduces inflammation and keeps skin hydrated thanks to its anti-inflammatory and anti-bacterial properties.
Tropical Fruits (Papayas, pineapples kiwis, guavas, etc…): Most tropical fruits are packed full of vitamin C which helps to fight against free radicals and also helps boost collagen.
#1.  Cucumber, Lemon, & Mint Detox Water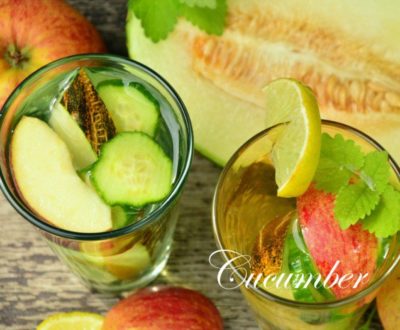 12 cups of filtered water
1 medium organic cucumber
2-3 small organic lemons
10-12 organic mint leaves
Slice cucumber and lemons. Chop up mint leaves and add all ingredients to filtered water. Refrigerate for at least 3 hours or overnight.
#2. Strawberry Kiwi Detox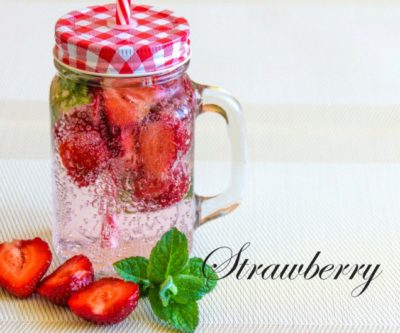 ½ gallon cold water
2 kiwis
6 strawberries, sliced
Mix all ingredients and refrigerate for 1-2 hours. Drink within the first 48 hours.
#3. Apple Cinnamon Detox Water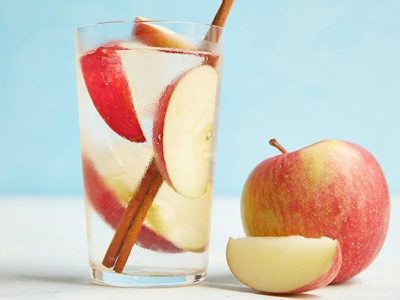 1 to 2 liters of water
1 lemon
5 strawberries, sliced
1 apple, sliced
Handful of fresh mint leaves
1 tsp of cinnamon
Handful of ice
In a big pitcher, pour water and ice. Stir in the rest of the ingredients consume!
#4. Lemon & Apple Cider Vinegar Detox Water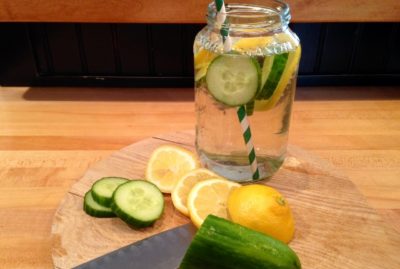 1-2 cups of water (room temperature or hot are both fine)
1 lemon, juiced and sliced
1 tsp. apple cider vinegar
1 tsp. aloe vera
1 tsp. honey (optional for sweetness)
Combined all ingredients in a glass or mason jar. Can be consumed warm or cold.
#5. Watermelon Mint Detox Water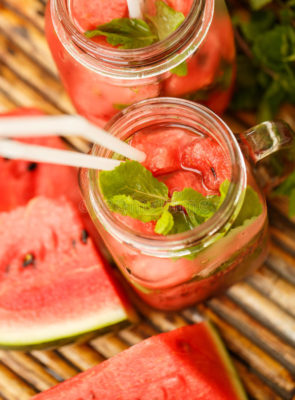 1-2 liters of water, depending on how strong you want it to taste
Part of 1 watermelon
1 lemon or lime
A handful of fresh mint leaves (approx. 10-13)
Ice cubes
Cube the watermelon, and add it to a pitcher. Then, slice your lemon or lime and add to the watermelon. Pour water, mint leaves, and ice cubes.
For a healthy gut and radiant skin, try to drink at least one glass of any of the above recipes right after waking up.
If you like this post, don't forget to share 🙂
Source: Purefiji