Homemade face scrubs are one of the easiest and most satisfying DIY beauty projects you can make and this homemade grapefruit face scrub is NO exception! This all natural face scrubs is specifically made to slough off dead skin cells, revealing new, younger skin, and getting rid of excess oil as well as preventing breakouts. But our favorite thing about this homemade grapefruit face scrub is the invigorating wake-me-up scent that'll  make you wanna use it every day!
Homemade Grapefruit Face Scrub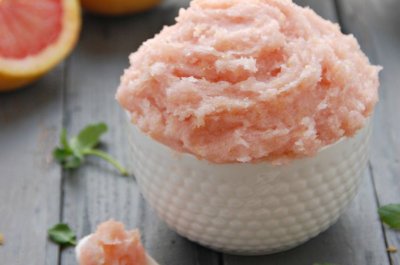 Ingredients:
Directions:
In a microwave safe bowl, melt the coconut oil for 30-45 seconds until melted.
Mix the sugar into the melted coconut oil.
Add all of the essential oils to the mixture and stir well.
Stir in a small drop of red food coloring, until you get a light pink (grapefruit-like) color.
Benefits of Homemade Grapefruit Face Scrub:
Exfoliating
Hydrating
Anti-aging
Prevents breakouts and blacheads
Reveals newer, younger skin.
Use three times a week by rubbing onto wet skin in slow, circular motions. Rinse off, pat dry, and follow up with a moisturizer.
If you like this post, don't forget to share 🙂