Body butters can be SO luxurious, but we always find them a little bit too pricey, not to mention they're packed with unpronounceable ingredients and alcohols which can actually further dry the skin. This homemade grapefruit whipped body butter is a quick absorbing, luscious butter that smells amazing and will hydrate dry skin. In this particular recipe, we used grapefruit essential oil (that grapefruit smell though!), but feel free to use any other type of essential oil such as lavender, lemon/lime, or whatever else you may have on hand!
Homemade Grapefruit Whipped Body Butter Recipe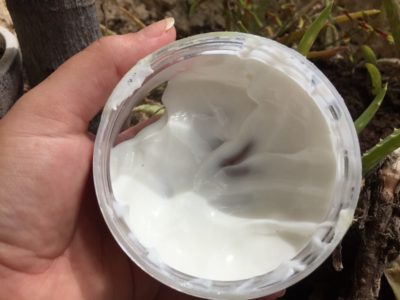 You'll Need:
1/2 cup shea butter
1/4 cup coconut oil
1/4 cup almond oil
20 drops grapefruit essential oil or essential oil of your choice
1/2 drop red food coloring (optional – simply for color)
Directions:
To a double boiler, add the shea butter, coconut oil, and almond oil.
Heat until melted.
Remove from heat and stir in the essential oil.
Transfer the butter to a mixing bowl and place in the fridge to cool for 40-60 minutes.
Remove from fridge once it has solidified a little bit and use a stand mixer or a hand mixer to whip the butter up.
Do this until stiff peaks form.
Transfer to a clean jar or container.
Store in a cool, dry place for up to 6 months.
Use as often as needed, especially after a shower when the body butter can easily absorb the skin.
Apply to dry hands and feet every night before bed.
Like this post? Share and Pin 🙂