This homemade lemon & honey body scrub will leave your skin silky smooth and smelling like a lemon orchard! Made with simple and all natural ingredients, this homemade lemon & honey body scrub is SUPER easy to make and you probably already have all of the ingredients on hand! Let's keep reading to find out how to make this awesomely energizing scrub!
Lemon & Honey Body Scrub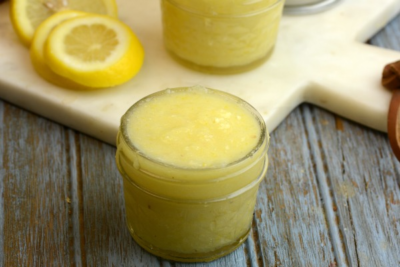 Source: Momsneedtoknow
You'll Need:
1 cup sugar
2 tbsp olive oil
juice of 1 lemon
2 tbsp honey
Directions:
In a small bowl, juice and zest 1 lemon.
Stir in olive oil, sugar, and honey.
Scoop all ingredients into a food processor and pulse for a few seconds.
Pour into a clean, airtight container or jar.
Use in the shower on wet skin in slow, circular motions.
Rinse off and pat dry.
Benefits of Lemon & Honey Body Scrub:
Exfoliates
Reduces the appearance of cellulite
Reduces the appearance of dark spots
Smooths skin
Hydrates dry skin
Like this post? Share and Pin 🙂