This heavenly smelling homemade lemon sugar scrub is one of my all-time favorite DIY scrub recipes! It combines all natural ingredients including coconut oil and lemon essential oil which is a great energizer and pick-me-up! Especially during the cold winter months, having a great scrub can mean a world of difference for dry, parched skin. Removing the top layer of dead skin cells allows for the skin to breathe and also lets your moisturizer penetrate much easier and deeper. You can make this homemade lemon sugar scrub super quick and you'll also save a ton of money as opposed to buying an actual scrub which is often packed with preservatives and other damaging chemicals.
DIY Lemon Sugar Scrub
This scrub is so simple to make and will leave your skin extremely soft. Because it contains coconut oil, it will give your skin a big moisturizing boost which it needs during the winter months. Coconut oil also produces collagen and encourages cell growth, which is great for dry and aging skin. As well, coconut oil also reduces inflammation, redness, and gets rid of dark spots and/or acne scars.
Lemon essential oil brings in an energizing and waking scent to this scrub, but is also anti-microbial and anti-fungal, getting rid of blackheads, acne, and other dirt and debris. Finally, the addition of sugar is to scrub away the dead skin cells which will clear up skin, and allow for other ingredients to penetrate much easier.
You'll Need: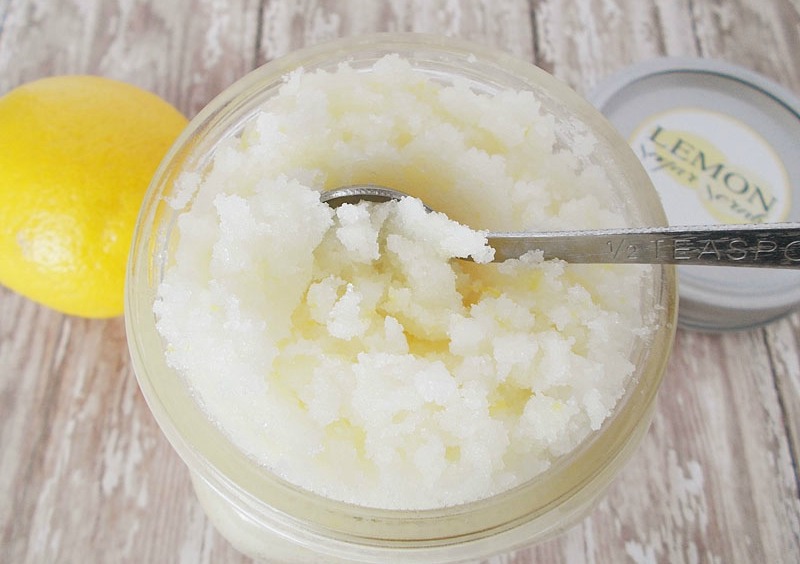 1 cup sugar
1/4 cup to 1/2 cup coconut oil
lemon essential oil
Yellow food coloring (optional)
8oz mason jar with lid or other container
Directions:
In a medium sized bowl, combine your sugar and coconut oil and mix well until well incorporated.
Add in a few drops of essential oil. This is completely up to you how much you want to add! Keep adding until you get the aroma you want!
Then, add a drop or two of yellow food coloring if you wish! If not, the mixture will be an off-white.
Mix well together and scoop out into a mason jar or container.
Use in the shower all over body scrubbing in slow, circular motions.
You can also use on the face, just make sure not to rub too hard!
If you enjoyed this post, don't forget to share 🙂
Image Source: iheartnaptime