With summer just around the corner, we've found the perfect summer body butter that will not only get your skin summer-ready but will also keep it that way! This homemade matcha body butter is made with natural ingredients that penetrate deep into the skin to repair dry, damaged skin cells, and leave skin glowing from head to toe! Once you make this homemade matcha body butter, you'll never go back to store-bought body butters again – it's seriously THAT luxurious!
Homemade Matcha Body Butter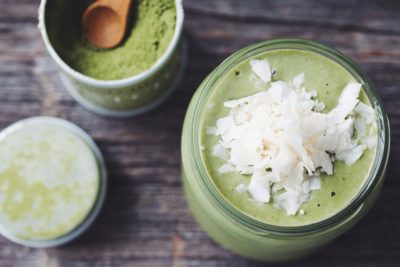 Why This Body Butter Will ROCK Your Socks Off:
It's incredibly soft, so you'll feel like you're putting actual silk all over your body.
Perfect for after-sun exposure, this body butter will prevent further skin damage and soothe damaged skin cells.
Smooths out imperfections such as rough bumps, dark pores on your legs, and fat buildup.
Will brighten dull skin by gently exfoliating.
Deeply hydrates and moisturizes even the driest skin!
Gently erases the appearance of dark spots and cellulite.
Leaves your skin smelling and feeling like a slice of heaven!
If all of THAT doesn't wanna make you try this homemade matcha body butter, I don't know what will!
You'll Need:
Directions:
In a double boiler or in the microwave, heat together the carnauba wax and shea butter until melted.
If you happen to live in a particularly warmer area, you may need to double the amount of carnauba wax to keep your matcha body butter from melting.
Let the wax and butter cool for a minute or two, then add in the coconut oil, matcha green tea powder, lavender oil, and vitamin e oil.
Stir all ingredients until they're well combined and place in the refrigerator until it solidifies.
Once solidified, remove from refrigerator and let it reach room temperature.
Once it has reached room temperature, take a hand mixer and whip until smooth and creamy.
Scoop your matcha body butter into a clean, airtight jar or container and it's ready to use!
Slather it on all over your body (works great for the face as well) after a day at the beach, after a shower, or before bed – any time is a good time to use this amazing body butter!
***Note*** This recipe will yield 4 2-oz jars!****
Like this post? Share and Pin 🙂