Shower melts are one of the easiest and funnest things to make because you can easily customize the scent and the color of your melts, plus your shower will never be the same! These homemade shower melts are made with lavender essential oil, but again, you could swap that out for any other essential oil such as peppermint (especially good if you're congested!).
Homemade Shower Melts Recipe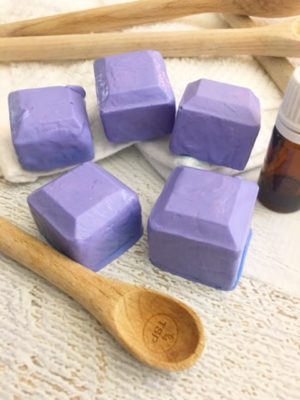 Source: Utensi
Ingredients:
1 cup corn starch
2 tbsp water
5-7 drops lavender essential oil (or any other type of essential oil of your choice!)
ice cube tray
red and blue food coloring OR food coloring of your choice (optional)
Directions:
In a medium sized bowl, add your cornstarch and lavender essential oil. Mix well until combined. The mixture will look crumbly, but that's ok!
Add a few drops of red and blue food coloring to make lavender. Of course, you can also add in any other color you prefer, but for the sake of a lavender shower melt, we decided to go with purple!
You may not notice your crumbly mixture turn any color just yet though until you move to step 4 (below).
Add in 2 tbsp of water and stir well. Have more water on hand as you'll definitely need to add a little more water. Keep adding drops of water and stir until the mixture becomes a thick, paste-like consistency.
Once your mixture reaches a thick paste-like consistency, pour into silicone ice molds (mini molds work best!).
Place your tray in the freezer for at least 1 hour.
Once frozen, your melts should keep in a cool, dry place when stored in an airtight jar.
How to Use the Homemade Shower Melts:
Throw a shower melt on the ground in the shower.
Once the shower warms up and hits the shower melt, it will release the essential oil and you'll be surrounded by a calming, relaxing lavender scent.
Source: Utensi
Don't forget to Pin and share 🙂