If you suffer from fine, brittle hair, don't worry, you're certainly not alone! Fine hair can be hard to grow out, and hard to style, but these 3 DIY hair treatments can help your hair build up more volume INSTANTLY! Made with all natural ingredients, these DIY hair treatments are super easy to make and will give your hair an instant, much needed boost that you'll love!
3 DIY Hair Treatments for Fine Brittle Hair – Recipes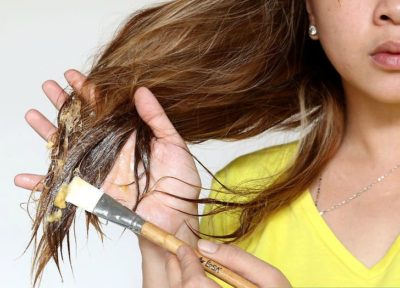 #1. Sea Salt Spray for Body & Volume
This super easy to make sea salt spray will give limp, flat hair quite the boost! Salt is amazing at stripping away hair's excess oils which can make hair limp and flat. Use this recipe once a week to thicken hair strands and boost volume.
4 tbsp sea salt
2 cups hot water
spray bottle
Dissolve the sea salt in the hot water and mix well. Pour into spray bottle and shake before every use. Spray onto dry hair, starting at the roots, and finishing at the ends. Leave on for 5-10 minutes and shampoo and condition as normal.
#2. Apple Cider Vinegar Rinse for Build Up
Hair build up from products and environmental pollutants can cause lifeless, limp hair. The acid in ACV helps to rinse out shampoo and conditioner buildup instantly!
one part ACV
one part water
Mix the two ingredients in a spray bottle and shake well. Spritz generously onto wet hair while in the shower (after shampooing and conditioning) making sure to saturate entire head. Leave on for 2-3 minutes and rinse with water. Do this once a week to restore life to limp hair and add shine.
#3. Baking Soda Treatment
Commercial shampoos are loaded with dyes, preservatives, and a slew of chemicals which cause hair build up and dry scalp. This baking soda treatment cleanses gently without the added ingredients and gives your hair a good, deep clean.
While in the shower, get about a tablespoon of baking soda into your palms and mix with a little bit of water. Work through wet hair starting from the roots all the way to the tips. Rinse out and follow up with the ACV rinse from above. Do this once a week in combination with the rinse.
If you like this post, don't forget to share 🙂